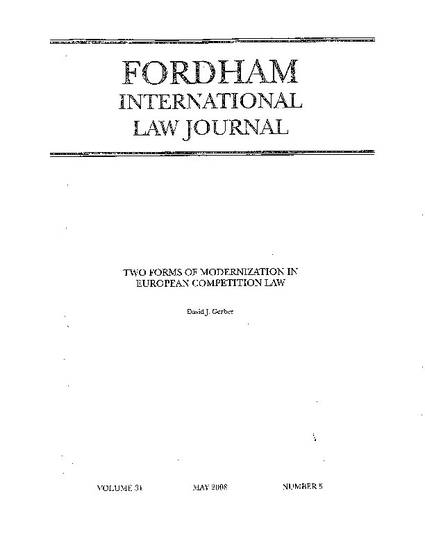 Article
Two Forms of Modernization in European Competition Law (symposium)
Fordham International Law Journal (2008)
Abstract
In European competition law, the term "modernization" has been a catchword and focus of attention since the late 1990s. Usually, the reference is to "procedural" or "institutional" modernization. The European Commission used the term "modernization" in referring to the important set of changes in the institutional structure and procedures of competition law that it introduced in 2004, and it has fundamentally changed important procedures for developing and applying competition law in Europe. During the same period in which this form of modernization was proceeding, another form of "modernization" was also taking shape that represents a fundamental reorientation of much of the substantive law thinking in European competition law
Curiously, little attention has been paid to the relationship between these two processes. Yet they have taken place over roughly the same period; many of the same people have been involved in instigating the changes; and they have been driven by many of the same forces and pressures. Understanding the relationship between these two processes promises not only to provide a better understanding of each, but also important insights into the current roles of competition law in the further integration of Europe. Even more broadly, it helps to reveal the forces at work in this critical period of European legal and political development.
The Article makes two central claims. One is that the two processes are related in important ways and that neither can be fully understood without understanding the other. The other is that the relationships between the two reveal changes in the dynamics of European competition law that have so far been little noticed.
Citation Information
Two Forms of Modernization in European Competition Law, 31
Fordham International Law Journal
1235 (2008) (symposium).