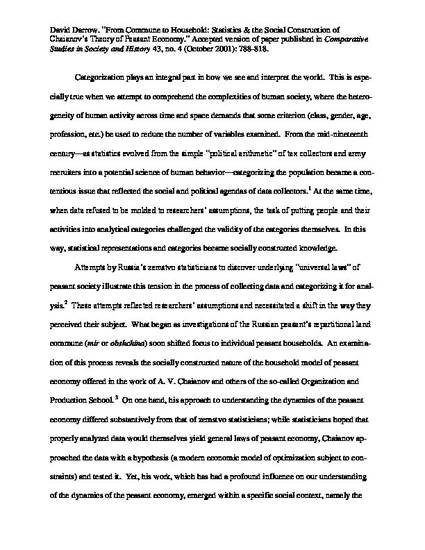 Article
From Commune to Household: Statistics and the Social Construction of Chaianov's Theory of Peasant Economy
Comparative Studies in Society and History
Publication Date
10-1-2001
Abstract
Categorization plays an integral part in how we see and interpret the world. This is especially true when we attempt to comprehend the complexities of human society, where the heterogeneity of human activity across time and space demands that some criterion (class, gender, age, profession, etc.) be used to reduce the number of variables examined. From the mid-nineteenth century—as statistics evolved from the simple "political arithmetic" of tax collectors and army recruiters into a potential science of human behavior—categorizing the population became a contentious issue that reflected the social and political agendas of data collectors. At the same time, when data refused to be molded to researchers' assumptions, the task of putting people and their activities into analytical categories challenged the validity of the categories themselves. In this way, statistical representations and categories became socially constructed knowledge.
Document Version
Postprint
Copyright
Copyright © 2001, Society for Comparative Study of Society and History.
Publisher
Society for Comparative Study of Society and History
Citation Information
David W. Darrow. "From Commune to Household: Statistics and the Social Construction of Chaianov's Theory of Peasant Economy"
Comparative Studies in Society and History
Vol. 43 Iss. 4 (2001)
Available at: http://works.bepress.com/david_darrow/2/