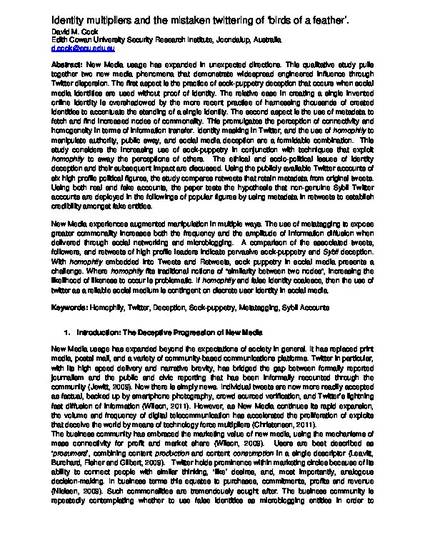 Article
Identity Multipliers and the Mistaken Twittering of 'Birds of a Feather'
Proceedings of the 13th European Conference on Cyber Warfare and Security (2014)
Abstract
New Media usage has expanded in unexpected directions. This qualitative study pulls together two new media phenomena that demonstrate widespread engineered influence through Twitter dispersion. The first aspect is the practice of sock-puppetry deception that occurs when social media identities are used without proof of identity. The relative ease in creating a single invented online identity is overshadowed by the more recent practise of harnessing thousands of created identities to accentuate the standing of a single identity. The second aspect is the use of metadata to fetch and find increased nodes of commonality. This promulgates the perception of connectivity and homogeneity in terms of information transfer. Identity masking in Twitter, and the use of homophily to manipulate authority, public sway, and social media deception are a formidable combination. This study considers the increasing use of sock-puppetry in conjunction with techniques that exploit homophily to sway the perceptions of others. The ethical and socio-political issues of identity deception and their subsequent impact are discussed. Using the publicly available Twitter accounts of six high profile political figures, the study compares retweets that retain metadata from original tweets. Using both real and fake accounts, the paper tests the hypothesis that non-genuine Sybil Twitter accounts are deployed in the followings of popular figures by using metadata in retweets to establish credibility amongst fake entities.
New Media experiences augmented manipulation in multiple ways. The use of metatagging to expose greater commonality increases both the frequency and the amplitude of information diffusion when delivered through social networking and microblogging. A comparison of the associated tweets, followers, and retweets of high profile leaders indicate pervasive sock-puppetry and Sybil deception. With homophily embedded into Tweets and Retweets, sock puppetry in social media presents a challenge. Where homophily fits traditional notions of "similarity between two nodes", increasing the likelihood of likeness to occur is problematic. If homophily and false identity coalesce, then the use of twitter as a reliable social medium is contingent on discrete user identity in social media.
Keywords
Homophily,
Twitter,
Deception,
Sock-puppetry,
Metatagging,
Sybil Accounts
Citation Information
David M Cook. "Identity Multipliers and the Mistaken Twittering of 'Birds of a Feather'"
Proceedings of the 13th European Conference on Cyber Warfare and Security
Vol. 1 (2014)
Available at: http://works.bepress.com/david_cook/16/