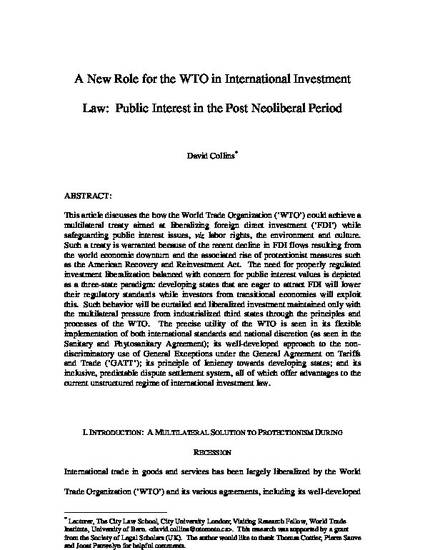 Unpublished Paper
A New Role for the WTO In International Investment Law: Public Interest in the Post Neoliberal Period
ExpressO (2009)
Abstract
This article discusses the how the World Trade Organization ('WTO') could achieve a multilateral treaty aimed at liberalizing foreign direct investment ('FDI') while safeguarding public interest issues, viz labor rights, the environment and culture. Such a treaty is warranted because of the recent decline in FDI flows resulting from the world economic downturn and the associated rise of protectionist measures such as the American Recovery and Reinvestment Act. The need for properly regulated investment liberalization balanced with concern for public interest values is depicted as a three-state paradigm: developing states that are eager to attract FDI will lower their regulatory standards while investors from transitional economies will exploit this. Such behavior will be curtailed and liberalized investment maintained only with the multilateral pressure from industrialized third states through the principles and processes of the WTO. The precise utility of the WTO is seen in its flexible implementation of both international standards and national discretion (as seen in the Sanitary and Phytosanitary Agreement); its well-developed approach to the non-discriminatory use of General Exceptions under the General Agreement on Tariffs and Trade ('GATT'); its principle of leniency towards developing states; and its inclusive, predictable dispute settlement system, all of which offer advantages to the current unstructured regime of international investment law.
Keywords
investment law,
world trade
Publication Date
July 22, 2009
Citation Information
David Collins. "A New Role for the WTO In International Investment Law: Public Interest in the Post Neoliberal Period"
ExpressO
(2009)
Available at: http://works.bepress.com/david_collins/4/