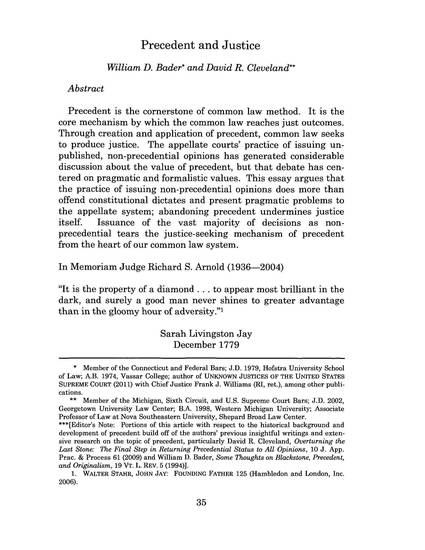 Article
Precedent and Justice
Law Faculty Publications
Publication Date
1-1-2011
Abstract
Precedent is the cornerstone of common law method. It is the core mechanism by which the common law reaches just outcomes. Through creation and application of precedent, common law seeks to produce justice. The appellate courts' practice of issuing unpublished, non-precedential opinions has generated considerable discussion about the value of precedent, but that debate has centered on pragmatic and formalistic values. This essay argues that the practice of issuing non-precedential opinions does more than offend constitutional dictates and present pragmatic problems to the appellate system; abandoning precedent undermines justice itself. Issuance of the vast majority of decisions as nonprecedential tears the justice-seeking mechanism of precedent from the heart of our common law system.
Citation Information
William D. Bader & David R. Cleveland,
Precedent and Justice
, 49 Duq. L. Rev. 35 (2011).