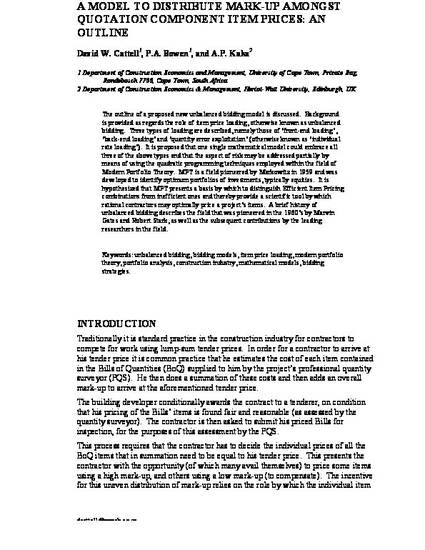 Presentation
A model to distribute mark-up amongst quotation component items: An outline
Paper presented at the 2nd Postgraduate conference on construction industry development (2004)
Abstract
The outline of a proposed new unbalanced bidding model is discussed. Background is provided as regards the role of item price loading, otherwise known as unbalanced bidding. Three types of loading are described, namely those of 'front-end loading', 'back-end loading' and 'quantity error exploitation' (otherwise known as 'individual rate loading'). It is proposed that one single mathematical model could embrace all three of the above types and that the aspect of risk may be addressed partially by means of using the quadratic programming techniques employed within the field of Modern Portfolio Theory. MPT is a field pioneered by Markowitz in 1959 and was developed to identify optimum portfolios of investments, typically equities. It is hypothesized that MPT presents a basis by which to distinguish Efficient Item Pricing combinations from inefficient ones and thereby provide a scientific tool by which rational contractors may optimally price a project's items. A brief history of unbalanced bidding describes the field that was pioneered in the 1960's by Marvin Gates and Robert Stark, as well as the subsequent contributions by the leading researchers in the field.
Keywords
unbalanced bidding,
bidding models,
item price loading,
modern portfolio theory,
construction industry,
mathematical models,
bidding strategies
Publication Date
January 1, 2004
Citation Information
David Cattell, Paul A. Bowen and Ammar P. Kaka. "A model to distribute mark-up amongst quotation component items: An outline"
Paper presented at the 2nd Postgraduate conference on construction industry development
(2004)
Available at: http://works.bepress.com/david_cattell/5/