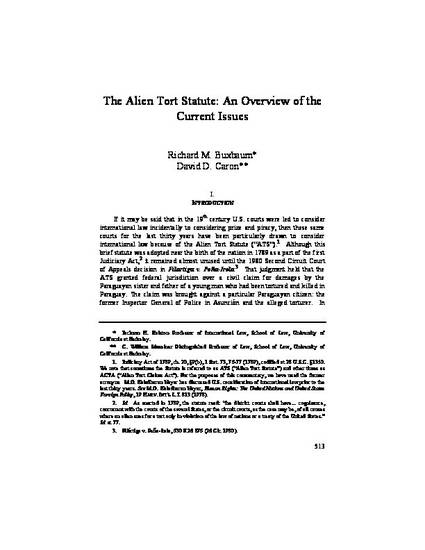 Article
The Alien Tort Statute: An Overview of the Current Issues
Berkeley Journal of International Law (2010)
Abstract
This introductory essay seeks to capture the range of questions that exist concerning the ATS and place the contributions of this symposium in the context of that overview.The contributions consist of eight student articles written in an advanced international law writing seminar focused on the ATS in the fall of 2009 . These comments are intended to provide clear statements of the current situation in the various judicial circuits of the United States inasmuch as there is often a majority and minority view on the various ATS issues addressed. Where the author passes into his or her own analysis as to the preferred approach, this is made clear to the reader.
Citation Information
David D. Caron and Richard M. Buxbaum. "The Alien Tort Statute: An Overview of the Current Issues"
Berkeley Journal of International Law
Vol. 28 (2010)
Available at: http://works.bepress.com/david_caron/101/