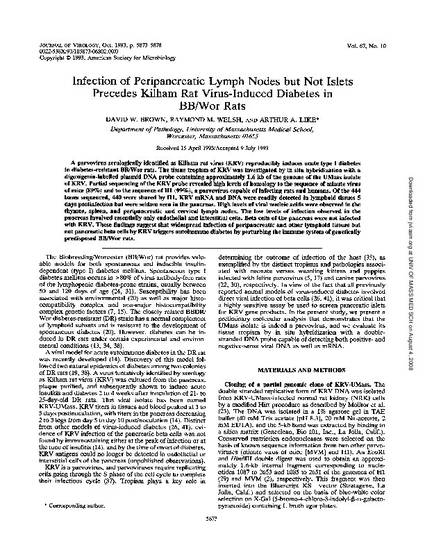 Article
Infection of peripancreatic lymph nodes but not islets precedes Kilham rat virus-induced diabetes in BB/Wor rats
Open Access Articles
UMMS Affiliation
Department of Pathology
Publication Date
10-1-1993
Subjects
Animals; Base Sequence; Cell Line; DNA Probes; DNA, Viral; Diabetes Mellitus, Type 1; In Situ Hybridization; Islets of Langerhans; Kidney; Lymph Nodes; Molecular Sequence Data; Parvoviridae; RNA, Messenger; RNA, Viral; Rats; Rats, Inbred BB
Abstract
A parvovirus serologically identified as Kilham rat virus (KRV) reproducibly induces acute type I diabetes in diabetes-resistant BB/Wor rats. The tissue tropism of KRV was investigated by in situ hybridization with a digoxigenin-labelled plasmid DNA probe containing approximately 1.6 kb of the genome of the UMass isolate of KRV. Partial sequencing of the KRV probe revealed high levels of homology to the sequence of minute virus of mice (89%) and to the sequence of H1 (99%), a parvovirus capable of infecting rats and humans. Of the 444 bases sequenced, 440 were shared by H1. KRV mRNA and DNA were readily detected in lymphoid tissues 5 days postinfection but were seldom seen in the pancreas. High levels of viral nucleic acids were observed in the thymus, spleen, and peripancreatic and cervical lymph nodes. The low levels of infection observed in the pancreas involved essentially only endothelial and interstitial cells. Beta cells of the pancreas were not infected with KRV. These findings suggest that widespread infection of peripancreatic and other lymphoid tissues but not pancreatic beta cells by KRV triggers autoimmune diabetes by perturbing the immune system of genetically predisposed BB/Wor rats.
Rights and Permissions
Citation: J Virol. 1993 Oct;67(10):5873-8.
Citation Information
David W. Brown, Raymond M. Welsh and Arthur A. Like. "Infection of peripancreatic lymph nodes but not islets precedes Kilham rat virus-induced diabetes in BB/Wor rats" Vol. 67 Iss. 10 (1993) ISSN: 0022-538X (Print)
Available at: http://works.bepress.com/david_brown2/139/