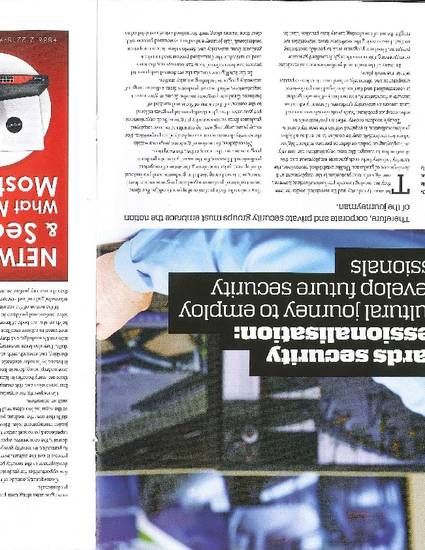 Popular Press
Towards Security Professionalization: The Journey to employ and development the future security professional
Australian Security Magazine (2015)
Abstract
The security industry and its associated bodies believe they are moving toward professionalization; however, a sign of a true profession is the employment and development of graduates. Unlike established professionals, the security industry lacks such graduate employment and this has to change. The time where an organisation can employ an ex-police or defence person may be coming to an end as a higher professionalization is required.
Today's modern society relies on professionals to solve complex problems, who commenced their careers as graduates from universities. However, university education impart a foundational, abstract body of knowledge that is contextualised and further developed into professional competence and ultimately, refined into expertise in the work place.
In many of the traditional professions such as medicine or engineering this occurs through formalised graduate programs. Graduate programs seek to provide mentoring so that those entering the workforce from universities are taught the art of transferring theory into practice. That is, they undertake their professional apprenticeships.
For most renowned professions graduate programs are a cultural norm, as it is well recognised that graduates need professional development prior to achieving the status of competent professional. However, for the security domain graduate programs are not the norm, but the exception.
Nevertheless, the notion of graduate programs within the security domain is not a completely alien proposition. For many years, large engineering consulting companies have employed graduates from various security programs. Such companies put graduates through a developmental program tailored to the context of their areas of focus. In addition, graduate programs are also found in government organisations, which recruit graduates from a diverse range of university programs including security studies.
Keywords
Security management,
professional,
profession
Publication Date
May 1, 2015
Citation Information
David J Brooks and Michael Coole. "Towards Security Professionalization: The Journey to employ and development the future security professional"
Australian Security Magazine
Iss. Apr/May (2015)
Available at: http://works.bepress.com/david_brooks/51/