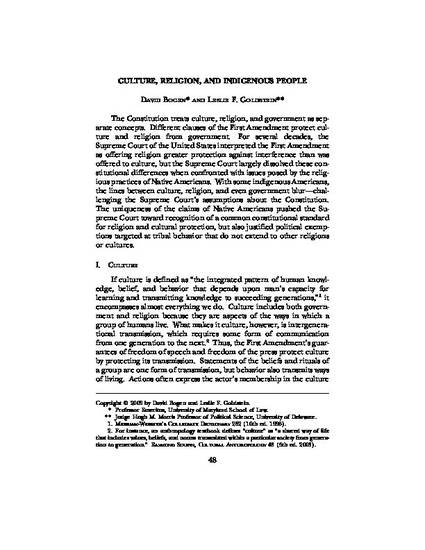 Article
Culture, Religion, and Indigenous People
69 Maryland Law Review 48 (2009)
Abstract
The Constitution treats culture, religion, and government as separate concepts. Different clauses of the First Amendment protect culture and religion from government. For several decades, the Supreme Court of the United States interpreted the First Amendment as offering religion greater protection against interference than was offered to culture, but the Supreme Court largely dissolved these constitutional differences when confronted with issues posed by the religious practices of Native Americans. With some indigenous Americans, the lines between culture, religion, and even government blur – challenging the Supreme Court's assumptions about the Constitution. The uniqueness of the claims of Native Americans pushed the Supreme Court toward recognition of a common constitutional standard for religion and cultural protection, but also justified political exemptions targeted at tribal behavior that do not extend to other religions or cultures.
Keywords
Native Americans,
First Amendment,
Constitution,
Supreme Court
Citation Information
69 Maryland Law Review 48 (2009).