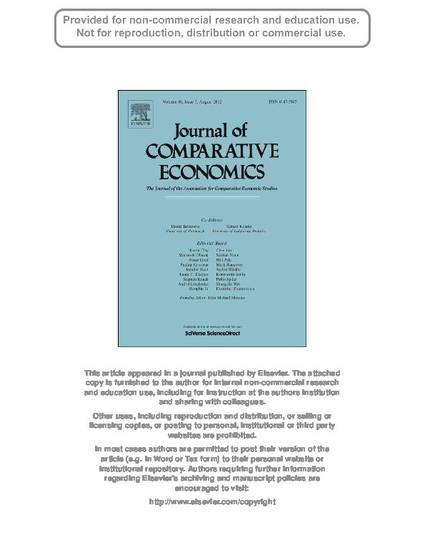 Article
The Correlation between Human Capital and Morality and its Effect on Economic Performance: Theory and Evidence
Journal of Comparative Economics (2012)
Abstract
In this paper we analyze the relationship between the correlation between morality and human capital (''ability'') on the one hand and aggregate economic performance on the other. Morality is defined as an aversion to consuming goods obtained through appropriative rather than productive activities. In our empirical analysis we adapt the well-known regression framework of Rodrik et al. (2004), using the World Values Survey as a source of proxies for morality. Using our preferred proxy, we find evidence that higher within-country correlation between morality and ability, holding constant the levels of morality and ability, increases per-capita income levels. Under our preferred specification, a one-standard-deviation increase in the correlation between morality and ability raises the log of per-capita income by about one-fourth of a standard deviation, equal to approximately $3600 for the median income country in our sample. Results are robust to correcting for endogeneity and to changes in sample and specification. Results are mixed when we use alternative morality proxies, but the coefficient on the morality–ability correlation is still usually positive and statistically significant. We also develop a simple static general equilibrium model to serve as a possible framework for understanding the empirical results.
Keywords
Morality,
Appropriation,
Rent-Seeking,
Economic Development
Publication Date
August, 2012
Citation Information
David J. Balan and Stephen Knack. "The Correlation between Human Capital and Morality and its Effect on Economic Performance: Theory and Evidence"
Journal of Comparative Economics
Vol. 40 Iss. 3 (2012)
Available at: http://works.bepress.com/david_balan/1/