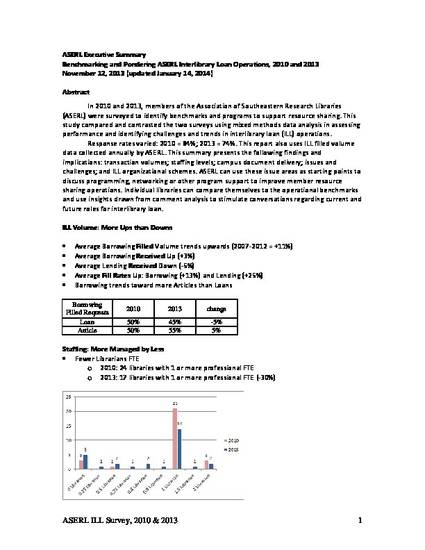 Unpublished Paper
Benchmarking and Pondering ASERL Interlibrary Loan Operations, 2010 and 2013 (Executive Summary)
ASERL Interlibrary Loan Working Group (2013)
Abstract
In 2010 and 2013, members of the Association of Southeastern Research Libraries (ASERL) were surveyed to identify benchmarks and programs to support resource sharing. This study compared and contrasted the two surveys using mixed methods data analysis in assessing performance and identifying challenges and trends in interlibrary loan (ILL) operations.
Response rates varied: 2010 = 84%; 2013 = 74%. This report also uses ILL filled volume data collected annually by ASERL. This summary presents the following findings and implications: transaction volumes; staffing levels; campus document delivery; issues and challenges; and ILL organizational schemes. ASERL can use these issue areas as starting points to discuss programming, networking or other program support to improve member resource sharing operations. Individual libraries can compare themselves to the operational benchmarks and use insights drawn from comment analysis to stimulate conversations regarding current and future roles for interlibrary loan.
Keywords
ILL,
Best Practices,
Assessment,
Survey
Publication Date
November 12, 2013
Citation Information
David P Atkins, Judy Greenwood and Pam King. "Benchmarking and Pondering ASERL Interlibrary Loan Operations, 2010 and 2013 (Executive Summary)"
ASERL Interlibrary Loan Working Group
(2013)
Available at: http://works.bepress.com/david_atkins/9/