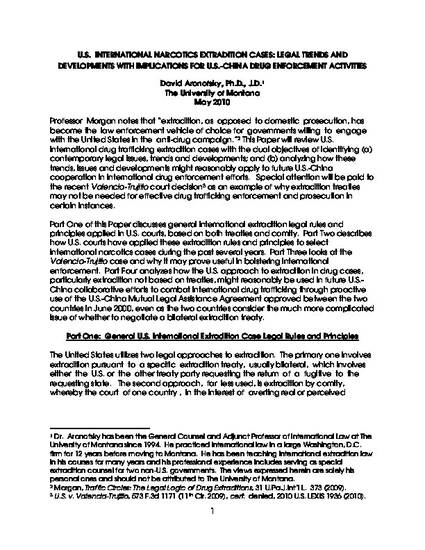 Unpublished Paper
U.S. INTERNATIONAL NARCOTICS EXTRADITION CASES: LEGAL TRENDS AND DEVELOPMENTS WITH IMPLICATIONS FOR U.S.-CHINA DRUG ENFORCEMENT ACTIVITIES
ExpressO (2010)
Abstract
Paper Abstract Professor Morgan correctly notes that "extradition, as opposed to domestic prosecution, has become the law enforcement vehicle of choice for governments willing to engage with the United States in the anti-drug campaign." This Paper will review U.S. international drug trafficking extradition cases with the dual objectives of (a) identifying contemporary legal issues trends and developments; and (b) analyzing how these issues, trends and developments might reasonably apply to future U.S.-China cooperation in international drug enforcement efforts. Special attention will be paid to the recent Valencia-Trujillo decision as an example of why extradition treaties may be unnecessary for effective drug trafficking enforcement and prosecution. Part One of this Paper discusses general international extradition legal rules and principles applied in U.S. courts, based on both treaties and comity. Part Two describes how U.S. courts have applied these extradition rules and principles to select international narcotics cases during the past several years. Part Three looks at the Valencia-Trujillo case and why it may prove useful in bolstering international enforcement. Part Four analyzes how the U.S. approach to extradition in drug cases, particularly extradition not based on treaties, might reasonably be used in future U.S.-China collaborative efforts to combat international drug trafficking through effective use of the U.S.-China Mutual Legal Assistance Agreement approved between the two countries in June 2000 as the two countries consider the much more complicated issue of whether to negotiate a bilateral extradition treaty.
Publication Date
September 23, 2010
Citation Information
David Aronofsky and Jie Qin. "U.S. INTERNATIONAL NARCOTICS EXTRADITION CASES: LEGAL TRENDS AND DEVELOPMENTS WITH IMPLICATIONS FOR U.S.-CHINA DRUG ENFORCEMENT ACTIVITIES"
ExpressO
(2010)
Available at: http://works.bepress.com/david_aronofsky/1/