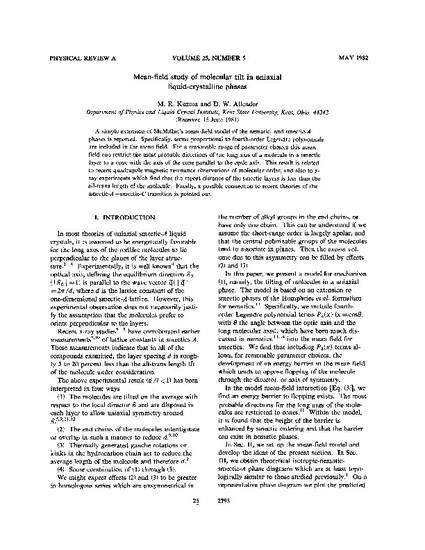 Article
Mean-Field Study of Molecular Tilt in Uniaxial Liquid-Crystalline Phases
Physical Review A
Publication Date
5-1-1982
DOI
10.1103/PhysRevA.25.2793
Abstract
A simple extension of McMillan's mean-field model of the nematic- and smectic-A phases is reported. Specifically, terms proportional to fourth-order Legendre polynomials are included in the mean field. For a reasonable range of parameter choices this mean field can restrict the most probable directions of the long axis of a molecule in a smectic layer to a cone with the axis of the cone parallel to the optic axis. This result is related to recent quadrupole-magnetic-resonance observations of molecular order, and also to x-ray experiments which find that the repeat distance of the smectic layers is less than the all-trans length of the molecule. Finally, a possible connection to recent theories of the smectic-A—smectic-C transition is pointed out.
Citation Information
M. R Kuzma and David W Allender. "Mean-Field Study of Molecular Tilt in Uniaxial Liquid-Crystalline Phases"
Physical Review A
Vol. 25 Iss. 5 (1982) p. 2793 - 2800
Available at: http://works.bepress.com/david_allender/32/