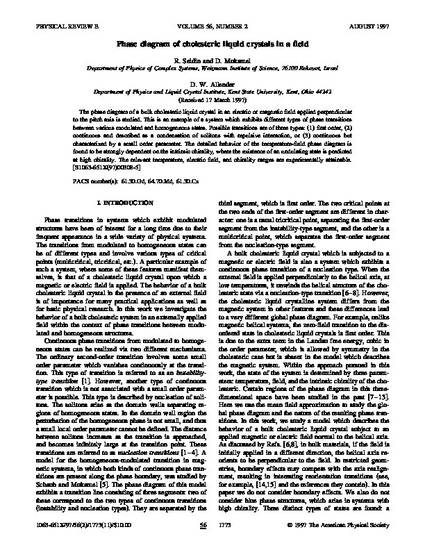 Article
Phase Diagram of Cholesteric Liquid Crystals in a Field
Physical Review E
Publication Date
8-15-1997
DOI
10.1103/PhysRevE.56.1773
Keywords
Magnetic Field,
Nematic Phase,
Incommensurate Structures,
Critical Behavior,
Transition,
Distortions
Abstract
The phase diagram of a bull; cholesteric liquid crystal in an electric or magnetic field applied perpendicular to the pitch axis is studied. This is an example of a system which exhibits different types of phase transitions between various modulated and homogeneous states. Possible transitions are of three types: (1) first order, (2) continuous and described as a condensation of solitons with repulsive interaction, or (3) continuous but characterized by a small order parameter. The detailed behavior of the temperature-field phase diagram is found to be strongly dependent on the intrinsic chirality, where the existence of an undulating state is predicted at high chirality. The relevant temperature, electric field, and chirality ranges are experimentally attainable.
Citation Information
R. Seidin, D. Mukamel and David W Allender. "Phase Diagram of Cholesteric Liquid Crystals in a Field"
Physical Review E
Vol. 56 Iss. 2 (1997) p. 1773 - 1783
Available at: http://works.bepress.com/david_allender/13/