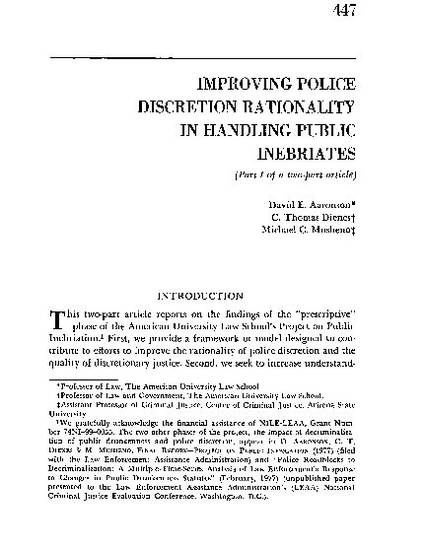 Article
Improving Police Discretion: Rationality in Handling Public Inebriates
Administrative Law Review (1977)
Abstract
This two-part article reports on the findings of the "prescriptive" phase of the American University Law School's Project on Public Inebriation.' First, we provide a framework or model designed to contribute to efforts to improve the rationality of police discretion and the quality of discretionary justice. Second, we seek to increase understanding of, and provide the basis for improving, the intake process whereby public inebriates are delivered to designated facilities-jails, detoxification centers, etc.-in criminal and decriminalized jurisdictions. While the article focuses on the discretionary power of police officers to remove street inebriates, it should increase awareness of problems of decriminalizing so-called victimless crimes and aid understanding of the public policy issues involved in responding to behavior involving both order maintenance and public health concerns.
Keywords
criminal law,
police discretion,
discretionary justice,
discretionary power,
police officer,
public policy,
public health
Citation Information
David Aaronson , C. Thomas Dienes and Michael C. Musheno. "Improving Police Discretion: Rationality in Handling Public Inebriates"
Administrative Law Review
Vol. 29 Iss. 4 (1977) p. 447 - 485
Available at: http://works.bepress.com/david_aaronson/25/