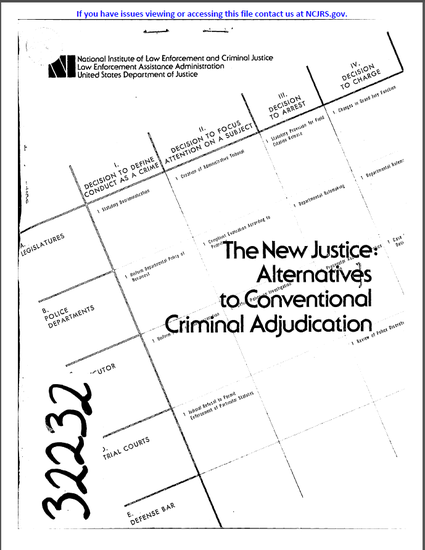 Book
The New Justice : Alternatives to Conventional Criminal Adjudication
(1977)
Abstract
The primary objectives of this study were to identify and examine the current range of alternatives to conventional adjudication; to determine the impact of these alternatives on the activities of criminal justice agencies; and to present an overview of organizational, legal and evaluative issues and concerns relative to the adoption and implementation of an alternative.
The researchers collected and analyzed a large amount of written documentation and evaluative reports on alternative projects throughout the country and in addition, visited over twenty cities to examine their alternative procedures. The results of this research effort are contained in two documents, The New Justice and Alternatives to Conventional Adjudication-A Guidebook for Planners and Practitioners.
The New Justice represents a summary of the actual analysis and comparison of more than seventy models (If alternatives examined. In this report the researchers have concluded that most alternatives deal with one or all of three basic sources of dysfunction in the traditional system: 1) improper subject matter jurisdiction; 2) ineffective disposition of defendants, and 3) disparity in treatment of defendants. This summary report provides a valuable discourse on a topic of growing national interest and concern. 
Keywords
The New Justice : Alternatives to Conventional Criminal Adjudication,
David,
Aaronson,
Bert,
Hoff,
Perter,
Jaszi,
Nicholas,
Kittrie,
David Saari
Publication Date
November, 1977
Citation Information
David Aaronson, N. Kittrie, & D. Saari, Alternatives to Conventional Criminal Adjudication: Guidebook for Planners and Practitioners (U.S. Govt. Printing Off. 1977)