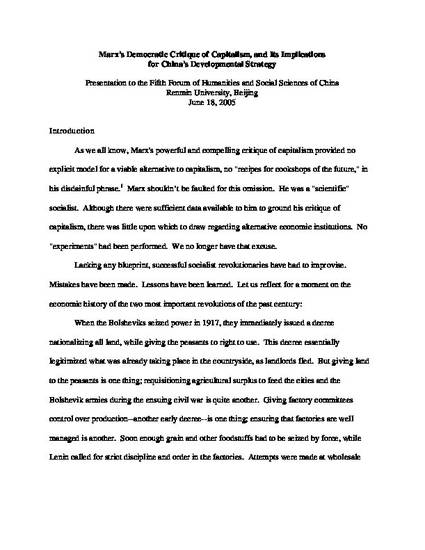 Article
Marx's Democratic Critique of Capitalism and Its Implications for a Viable Socialism
Owl of Minerva
Publication Date
1-1-2014
Publisher Name
Hegel Society of America
Abstract
This paper argues that Marx's critique of capitalism is not, as commonly believed, a critique of the "free market." I argue that the "market" under capitalism should be understood as a three-fold market—for goods and services, for labor and for capital. I argue that Marx's critique is essentially a critique of the latter two markets, and not the first. Hence theoretical space opens up for "market socialism." I proceed to elaborate briefly what specific institutions might comprise an economically viable socialism that would not be vulnerable to Marx's critique.
Creative Commons License
Creative Commons Attribution-Noncommercial-No Derivative Works 3.0
Copyright Statement
© Hegel Society of America, 2014.
Citation Information
C. David Schweickart. "Marx's Democratic Critique of Capitalism and Its Implications for a Viable Socialism"
Owl of Minerva
Vol. 46 Iss. 1 (2014)
Available at: http://works.bepress.com/david-schweickart/3/