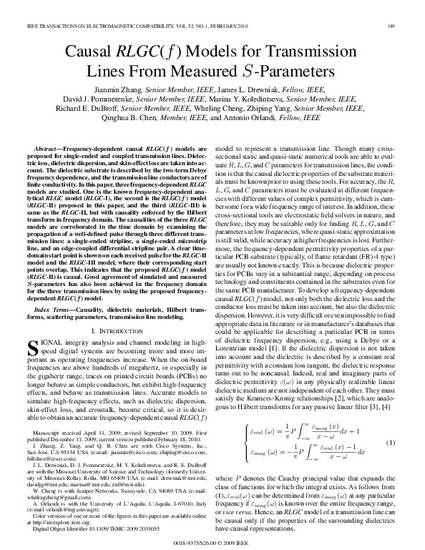 Article
Causal RLGC( Ƒ ) Models for Transmission Lines from Measured S-Parameters
IEEE Transactions on Electromagnetic Compatibilty
Abstract
Frequency-dependent causal RLGC(f) models are proposed for single-ended and coupled transmission lines. Dielectric loss, dielectric dispersion, and skin-effect loss are taken into account. The dielectric substrate is described by the two-term Debye frequency dependence, and the transmission line conductors are of finite conductivity. In this paper, three frequency-dependent RLGC models are studied. One is the known frequency-dependent analytical RLGC model ( RLGC-I), the second is the RLGC(f) model (RLGC-II) proposed in this paper, and the third (RLGC-III) is same as the RLGC -II, but with causality enforced by the Hilbert transform in frequency domain. The causalities of the three RLGC models are corroborated in the time domain by examining the propagation of a well-defined pulse through three different transmission lines: a single-ended stripline, a single-ended microstrip line, and an edge-coupled differential stripline pair. A clear time-domain start point is shown on each received pulse for the RLGC-II model and the RLGC-III model, where their corresponding start points overlap. This indicates that the proposed RLGC(f) model (RLGC-II) is causal. Good agreement of simulated and measured S-parameters has also been achieved in the frequency domain for the three transmission lines by using the proposed frequency-dependent RLGC (f) model.
Department(s)
Electrical and Computer Engineering
Research Center/Lab(s)
Electromagnetic Compatibility (EMC) Laboratory
Keywords and Phrases
Causality,
Dielectric Materials,
Hilbert Transforms,
Scattering Parameters,
Transmission Line Modeling,
Transmission Line Measurements,
Power Transmission Lines,
Dielectric Losses,
Integrated Circuit Modeling,
Gallium,
Strip Lines,
Coupled Transmission Lines,
Permittivity,
Skin Effect,
S-Parameters,
Skin-Effect Loss,
RLGC(f) Models,
S-Parameters Measurement,
Frequency-Dependent Causal Models,
Hilbert Transform,
Single-Ended Microstrip Line,
Transmission Line Conductors,
Edge-Coupled Differential Stripline Pair,
Dielectric Dispersion
Document Type
Article - Journal
Document Version
Final Version
Rights
© 2010 Institute of Electrical and Electronics Engineers (IEEE), All rights reserved.
Publication Date
2-1-2010
Citation Information
Jianmin Zhang, James L. Drewniak, David Pommerenke, Marina Koledintseva, et al.. "Causal RLGC( Ƒ ) Models for Transmission Lines from Measured S-Parameters"
IEEE Transactions on Electromagnetic Compatibilty
Vol. 52 Iss. 1 (2010) p. 189 - 198 ISSN: 0018-9375; 1558-187X
Available at: http://works.bepress.com/david-pommerenke/54/