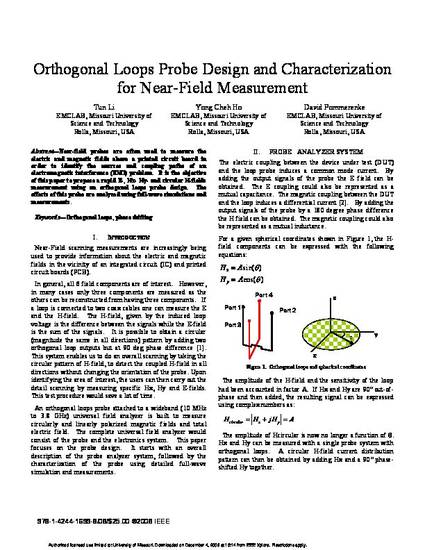 Article
Orthogonal Loops Probe Design and Characterization for Near-Field Measurement
Proceedings of the 2005 International Symposium on Electromagnetic Compatibility, 2008. EMC 2008
Abstract
Near-field probes are often used to measure the electric and magnetic fields above a printed circuit board in order to identify the sources and coupling paths of an electromagnetic interference (EMI) problem. It is the objective of this paper to propose a rapid E-, Hx- Hy- and circular H-fields measurement using an orthogonal loops probe design. The effects of this probe are analyzed using full-wave simulations and measurements.
Meeting Name
2005 International Symposium on Electromagnetic Compatibility, 2008. EMC 2008
Department(s)
Electrical and Computer Engineering
Keywords and Phrases
Electromagnetic Interference,
Orthogonal Loops,
Phase Shifting
Document Type
Article - Conference proceedings
Document Version
Final Version
Rights
© 2008 Institute of Electrical and Electronics Engineers (IEEE), All rights reserved.
Publication Date
8-1-2008
Citation Information
Tun Li, Yong Cheh Ho and David Pommerenke. "Orthogonal Loops Probe Design and Characterization for Near-Field Measurement"
Proceedings of the 2005 International Symposium on Electromagnetic Compatibility, 2008. EMC 2008
(2008)
Available at: http://works.bepress.com/david-pommerenke/159/