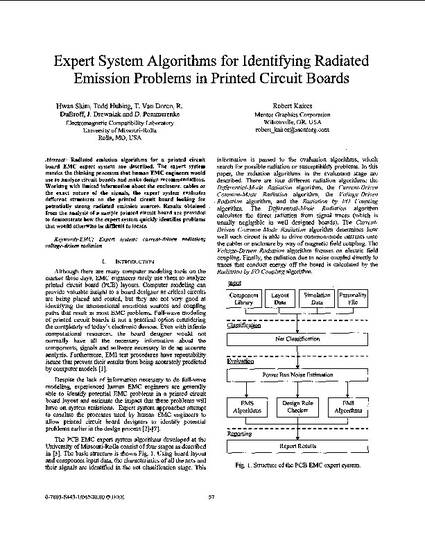 Article
Expert System Algorithms for Identifying Radiated Emission Problems in Printed Circuit Boards
Proceedings of the IEEE International Symposium on Electromagnetic Compatibility (2004, Santa Clara, CA)
Abstract
Radiated emission algorithms for a printed circuit board EMC expert system are described. The expert system mimics the thinking processes that human EMC engineers would use to analyze circuit boards and make design recommendations. Working with limited information about the enclosure, cables or the exact nature of the signals, the expert system evaluates different structures on the printed circuit board looking for potentially strong radiated emission sources. Results obtained from the analysis of a sample printed circuit board are provided to demonstrate how the expert system quickly identifies problems that would otherwise be difficult to locate.
Meeting Name
IEEE International Symposium on Electromagnetic Compatibility (2004: Aug. 9-13, Santa Clara, CA)
Department(s)
Electrical and Computer Engineering
Research Center/Lab(s)
Electromagnetic Compatibility (EMC) Laboratory
Keywords and Phrases
EMC Expert System,
EMI,
Circuit Analysis Computing,
Circuit Board Analysis,
Design Recommendations,
Electromagnetic Compatibility,
Electromagnetic Interference,
Intelligent Design Assistants,
Printed Circuit Boards,
Printed Circuit Layout,
Radiated Emission Problems,
Current-Driven Radiation,
EMC,
Expert System,
Voltage-Driven Radiation
International Standard Book Number (ISBN)
780384431
Document Type
Article - Conference proceedings
Document Version
Final Version
Rights
© 2004 Institute of Electrical and Electronics Engineers (IEEE), All rights reserved.
Publication Date
8-1-2004
Citation Information
Hwan-Woo Shim, Todd H. Hubing, Thomas Van Doren, Richard E. DuBroff, et al.. "Expert System Algorithms for Identifying Radiated Emission Problems in Printed Circuit Boards"
Proceedings of the IEEE International Symposium on Electromagnetic Compatibility (2004, Santa Clara, CA)
Vol. 1 (2004) p. 57 - 62 ISSN: 1077-4076
Available at: http://works.bepress.com/david-pommerenke/110/