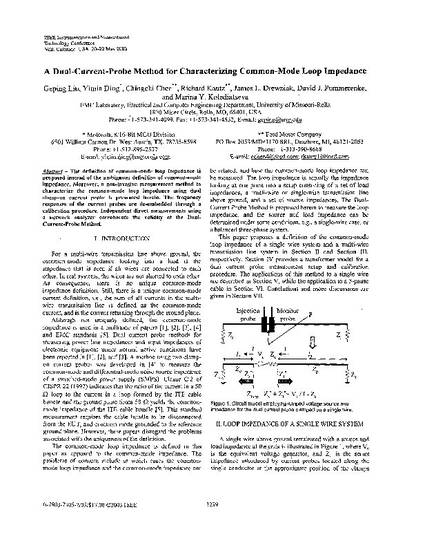 Article
A Dual-current Method for Characterizing Common-Mode Loop Impedance
Proceedings of the 20th IEEE Instrumentation and Measurement Technology Conference, 2003. IMTC '03
Abstract
The definition of common-mode loop impedance is proposed instead of the ambiguous definition of common-mode impedance. Moreover, a noninvasive measurement method to characterize the common-mode loop impedance using dual clamp-on current probe is presented herein. The frequency responses of the current probes are deembedded through a calibration procedure. Independent direct measurements using a network analyzer corroborate the validity of the Dual-Current-Probe Method.
Meeting Name
20th IEEE Instrumentation and Measurement Technology Conference, 2003. IMTC '03
Department(s)
Electrical and Computer Engineering
Keywords and Phrases
Calibration Procedure,
Common-Mode Loop Impedance,
Dual Clamp-On Current Probe,
Dual Current Probe Method,
Dual-Current Method,
Electric Impedance Measurement,
Frequency Response,
Independent Direct Measurement,
Network Analyzer,
Noninvasive Measurement Method,
Probes,
Spectral Analysers,
Transmission Lines
Document Type
Article - Conference proceedings
Document Version
Final Version
Rights
© 2003 Institute of Electrical and Electronics Engineers (IEEE), All rights reserved.
Publication Date
1-1-2003
Citation Information
Geping Liu, Yimin Ding, Chingchi Chen, R. W. Kautz, et al.. "A Dual-current Method for Characterizing Common-Mode Loop Impedance"
Proceedings of the 20th IEEE Instrumentation and Measurement Technology Conference, 2003. IMTC '03
(2003) ISSN: 1091-5281
Available at: http://works.bepress.com/david-pommerenke/1/