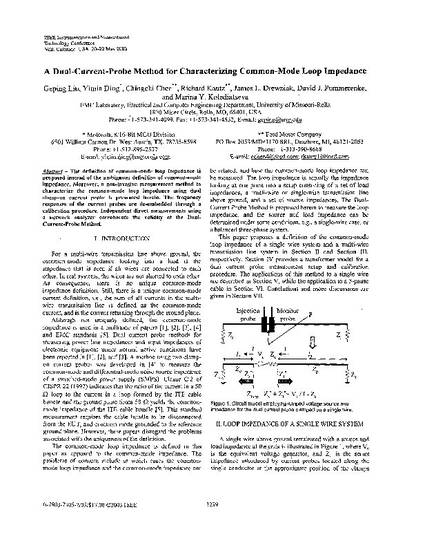 Article
A Dual-current Method for Characterizing Common-Mode Loop Impedance
Proceedings of the 20th IEEE Instrumentation and Measurement Technology Conference (2003, Vail, CO)
Abstract
The definition of common-mode loop impedance is proposed instead of the ambiguous definition of common-mode impedance. Moreover, a non-invasive measurement method to characterize the common-mode loop impedance using dual clamp-on current probe is presented herein. The frequency responses of the current probes are de-embedded through a calibration procedure. Independent direct measurements using a network analyzer corroborate the validity of the Dual-Current-Probe Method.
Meeting Name
20th IEEE Instrumentation and Measurement Technology Conference (2003: May 20-22, Vail, CO)
Department(s)
Electrical and Computer Engineering
Research Center/Lab(s)
Electromagnetic Compatibility (EMC) Laboratory
Keywords and Phrases
Calibration Procedure,
Common-Mode Loop Impedance,
Dual Clamp-On Current Probe,
Dual Current Probe Method,
Dual-Current Method,
Electric Impedance Measurement,
Frequency Response,
Independent Direct Measurement,
Network Analyzer,
Noninvasive Measurement Method,
Probes,
Spectral Analysers,
Transmission Lines,
Current Measurement,
Transmission Line Measurements,
Wire,
Impedance Measurement,
Power Transmission Lines,
Power Cables,
Transmission Line Theory,
Electromagnetic Compatibility,
Calibration
International Standard Book Number (ISBN)
780377052
Document Type
Article - Conference proceedings
Document Version
Final Version
Rights
© 2003 Institute of Electrical and Electronics Engineers (IEEE), All rights reserved.
Publication Date
5-1-2003
Citation Information
Geping Liu, Yimin Ding, Chingchi Chen, Richard W. Kautz, et al.. "A Dual-current Method for Characterizing Common-Mode Loop Impedance"
Proceedings of the 20th IEEE Instrumentation and Measurement Technology Conference (2003, Vail, CO)
Vol. 2 (2003) p. 1239 - 1244 ISSN: 1091-5281
Available at: http://works.bepress.com/david-pommerenke/1/