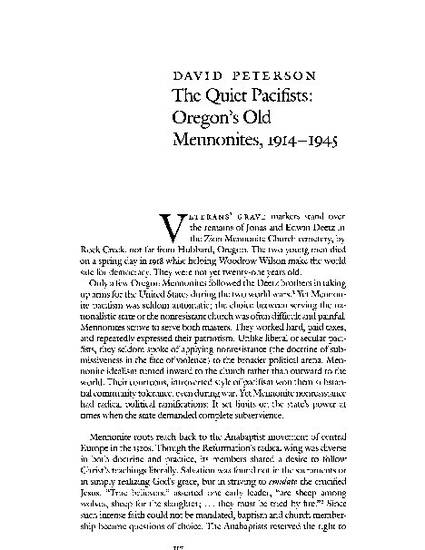 Article
The Quiet Pacifists: Oregon's Old Mennonites, 1914-1945
Oregon Historical Quarterly (1992)
Abstract
This article examines the history of Mennonite pacifism in Oregon during the period of the First and Second World Wars, and explores the difficulties faced by Mennonites who felt pressure from both their nonresistant heritage and what was promoted as the national interest.
Keywords
Mennonites -- Oregon -- History -- 20th century,
World War (1914-1918) -- Religious aspects,
Conscientious objectors -- Oregon,
World War (1914-1918) -- War work -- Mennonites
Publication Date
Summer 1992
Citation Information
Peterson del Mar, David. "The Quiet Pacifists: Oregon's Old Mennonites, 1914-1945." Oregon Historical Quarterly 93, no. 2 (1992): 117-146.