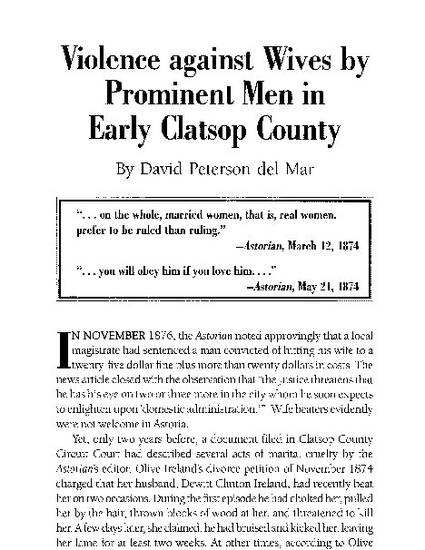 Article
Violence against Wives by Prominent Men in Early Clatsop County
Oregon Historical Quarterly (1999)
Abstract
This article examines the history of wife beating in Astoria, Oregon, in the middle part of the 19th century, exploring why this and other communities simultaneously condemned and tolerated wife beating. This locale was selected due to the unusually high numbers of prominent men who were described as being physically abusive to their wives compared to other communities.
Keywords
Wife abuse -- Oregon -- Astoria -- History,
Wife abuse -- Oregon -- Astoria -- Case studies,
Marriage -- Oregon -- 19th century
Publication Date
Winter 1999
Citation Information
Peterson del Mar, David. "Violence against Wives by Prominent Men in Early Clatsop County." Oregon Historical Quarterly 100, no. 4 (1999): 434-450.