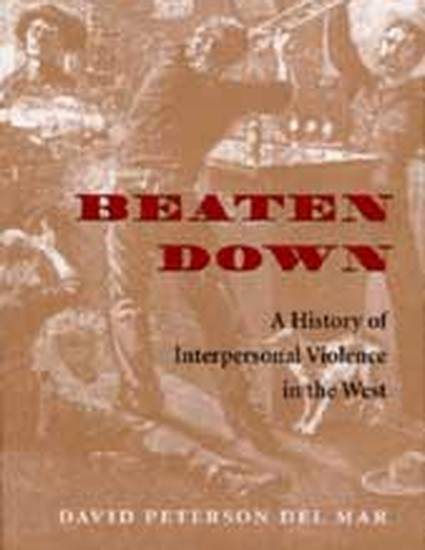 Book
Beaten Down : A History of Interpersonal Violence in the West
(2002)
Abstract
The word "violence" conjures up images of terrorism, bombings, and lynchings. 
Beaten Down
 is concerned with more prosaic acts of physical force-a husband slapping his wife, a parent taking a birch branch to a child, a pair of drunken friends squaring off to establish who was the "better man." David Peterson del Mar accounts for the social relations of power that lie behind this intimate form of violence, this "white noise" that has always been with us, humming quietly between more explosive acts of violence.
Broad in its chronological and cultural sweep, 
Beaten Down
examines interpersonal violence in Washington, Oregon, and British Columbia beginning with Native American cultures before colonization and continuing into the mid-twentieth century. It contrasts the disparate ways of practicing and punishing interpersonal violence on each side of the U.S.-Canadian border. Del Mar concludes that we cannot comprehend the causes and moral consequences of a violent act without considering larger social relations of power, whether between colonizers and original inhabitants, between spouses, between parents and children, or between and among different ethnic groups.
The author has drawn on a vast array of vivid sources, including newspaper accounts, autobiographies, novels, oral histories, historical and ethnographic publications, and hundreds of detailed court cases to account for not only the relative frequency of different forms of violence, but also the shifting definitions and perceptions of what constitutes violence. This is a thoughtful and probing account of how and why people have hit each other and the manner in which opinion makers and ordinary citizens have censured, defended, or celebrated such acts. Del Mar's conclusions have important implications for an understanding of violence and perceptions of violence in contemporary society.
Keywords
Violence -- West (U.S.) -- History,
Violence -- British Columbia -- History,
Interpersonal conflict -- West (U.S.) -- History,
Interpersonal conflict -- British Columbia -- History
Publisher
University of Washington Press
Citation Information
Peterson del Mar, David. Beaten Down : A History of Interpersonal Violence in the West, University of Washington Press, 2002.