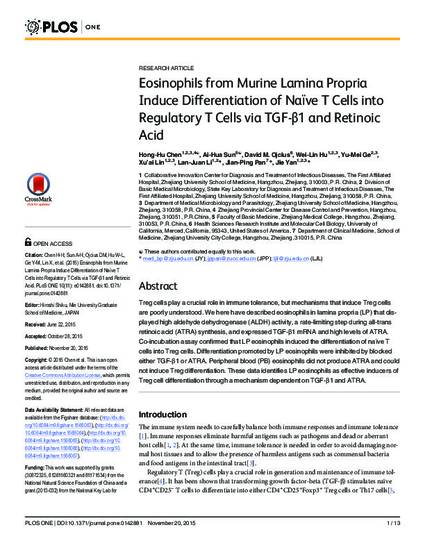 Article
Eosinophils from murine lamina propria induce differentiation of naïve T cells into regulatory T cells via TGF-β1 and retinoic acid
PLoS One
ORCiD
David M. Ojcius: 0000-0003-1461-4495
DOI
10.1371/journal.pone.0142881
Publication Date
11-20-2015
Abstract
Treg cells play a crucial role in immune tolerance, but mechanisms that induce Treg cells are poorly understood. We here have described eosinophils in lamina propria (LP) that displayed high aldehyde dehydrogenase (ALDH) activity, a rate-limiting step during all-trans retinoic acid (ATRA) synthesis, and expressed TGF-β1 mRNA and high levels of ATRA. Co-incubation assay confirmed that LP eosinophils induced the differentiation of naïve T cells into Treg cells. Differentiation promoted by LP eosinophils were inhibited by blocked either TGF-β1 or ATRA. Peripheral blood (PB) eosinophils did not produce ATRA and could not induce Treg differentiation. These data identifies LP eosinophils as effective inducers of Treg cell differentiation through a mechanism dependent on TGF-β1 and ATRA.
Citation Information
Hong-Hu Chen, Ai-Hua Sun, David M. Ojcius, Wei-Lin Hu, et al.. "Eosinophils from murine lamina propria induce differentiation of naïve T cells into regulatory T cells via TGF-β1 and retinoic acid"
PLoS One
Vol. 10 Iss. 11 (2015) p. 1 - 13 ISSN: 1932-6203
Available at: http://works.bepress.com/david-ojcius/95/