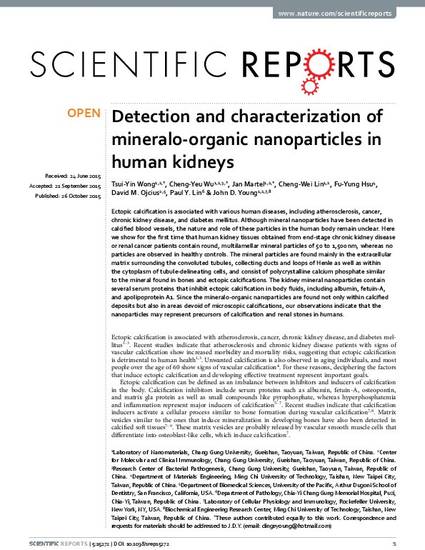 Article
Detection and characterization of mineralo-organic nanoparticles in human kidneys
Scientific Reports
ORCiD
David M. Ojcius: 0000-0003-1461-4495
Publication Date
10-26-2015
Abstract
Ectopic calcification is associated with various human diseases, including atherosclerosis, cancer, chronic kidney disease, and diabetes mellitus. Although mineral nanoparticles have been detected in calcified blood vessels, the nature and role of these particles in the human body remain unclear. Here we show for the first time that human kidney tissues obtained from end-stage chronic kidney disease or renal cancer patients contain round, multilamellar mineral particles of 50 to 1,500 nm, whereas no particles are observed in healthy controls. The mineral particles are found mainly in the extracellular matrix surrounding the convoluted tubules, collecting ducts and loops of Henle as well as within the cytoplasm of tubule-delineating cells, and consist of polycrystalline calcium phosphate similar to the mineral found in bones and ectopic calcifications. The kidney mineral nanoparticles contain several serum proteins that inhibit ectopic calcification in body fluids, including albumin, fetuin-A, and apolipoprotein A1. Since the mineralo-organic nanoparticles are found not only within calcified deposits but also in areas devoid of microscopic calcifications, our observations indicate that the nanoparticles may represent precursors of calcification and renal stones in humans.
Citation Information
Tsui-Yin Wong, Cheng-Yeu Wu, Jan Martel, Cheng-Wei Lin, et al.. "Detection and characterization of mineralo-organic nanoparticles in human kidneys"
Scientific Reports
Vol. 5 (2015) p. 1 - 13 ISSN: 2045-2322
Available at: http://works.bepress.com/david-ojcius/89/