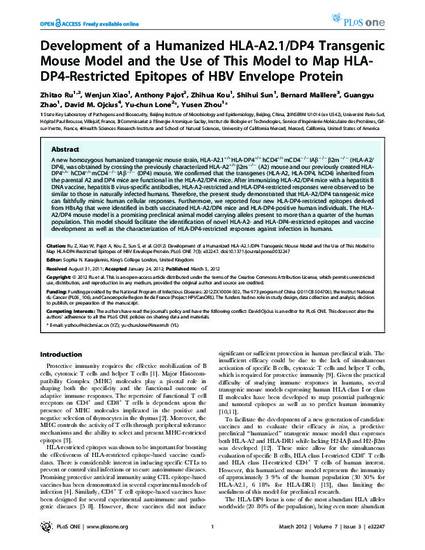 Article
Development of a humanized HLA-A2.1/DP4 transgenic mouse model and the use of this model to map HLA-DP4-restricted epitopes of HBV envelope protein
PLoS One
ORCiD
David M. Ojcius: 0000-0003-1461-4495
DOI
10.1371/journal.pone.0032247
Publication Date
3-5-2012
Abstract
A new homozygous humanized transgenic mouse strain, HLA-A2.1+/+HLA-DP4+/+ hCD4+/+mCD4−/−IAβ−/−β2m−/− (HLA-A2/DP4), was obtained by crossing the previously characterized HLA-A2+/+β2m−/− (A2) mouse and our previously created HLA-DP4+/+ hCD4+/+mCD4−/−IAβ−/− (DP4) mouse. We confirmed that the transgenes (HLA-A2, HLA-DP4, hCD4) inherited from the parental A2 and DP4 mice are functional in the HLA-A2/DP4 mice. After immunizing HLA-A2/DP4 mice with a hepatitis B DNA vaccine, hepatitis B virus-specific antibodies, HLA-A2-restricted and HLA-DP4-restricted responses were observed to be similar to those in naturally infected humans. Therefore, the present study demonstrated that HLA-A2/DP4 transgenic mice can faithfully mimic human cellular responses. Furthermore, we reported four new HLA-DP4-restricted epitopes derived from HBsAg that were identified in both vaccinated HLA-A2/DP4 mice and HLA-DP4-positive human individuals. The HLA-A2/DP4 mouse model is a promising preclinical animal model carrying alleles present to more than a quarter of the human population. This model should facilitate the identification of novel HLA-A2- and HLA-DP4-restricted epitopes and vaccine development as well as the characterization of HLA-DP4-restricted responses against infection in humans.
Citation Information
Zhitao Ru, Wenjun Xiao, Anthony Pajot, Zhihua Kou, et al.. "Development of a humanized HLA-A2.1/DP4 transgenic mouse model and the use of this model to map HLA-DP4-restricted epitopes of HBV envelope protein"
PLoS One
Vol. 7 Iss. 3 (2012) p. 1 - 9 ISSN: 1932-6203
Available at: http://works.bepress.com/david-ojcius/84/