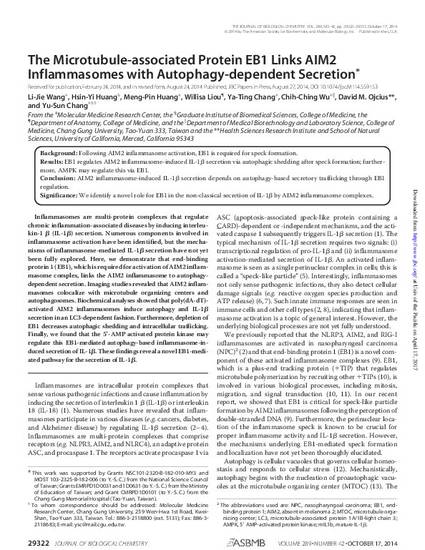 Article
The microtubule-associated protein, EB1, links AIM2 inflammasomes with autophagy-dependent secretion
Journal of Biological Chemistry
ORCiD
David M. Ojcius: 0000-0003-1461-4495
DOI
10.1074/jbc.M114.559153
Publication Date
8-17-2014
Abstract
Inflammasomes are multi-protein complexes that regulate chronic inflammation-associated diseases by inducing interleukin-1 β (IL-1β) secretion. Numerous components involved in inflammasome activation have been identified, but the mechanisms of inflammasome-mediated IL-1β secretion have not yet been fully explored. Here, we demonstrate that end-binding protein 1 (EB1), which is required for activation of AIM2 inflammasome complex, links the AIM2 inflammasome to autophagy-dependent secretion. Imaging studies revealed that AIM2 inflammasomes colocalize with microtubule organizing centers and autophagosomes. Biochemical analyses showed that poly(dA-dT)-activated AIM2 inflammasomes induce autophagy and IL-1β secretion in an LC3-dependent fashion. Furthermore, depletion of EB1 decreases autophagic shedding and intracellular trafficking. Finally, we found that the 5′-AMP activated protein kinase may regulate this EB1-mediated autophagy-based inflammasome-induced secretion of IL-1β. These findings reveal a novel EB1-mediated pathway for the secretion of IL-1β.
Citation Information
Li-Jie Wang, Hsin-Yi Huang, Meng-Pin Huang, Willisa Liou, et al.. "The microtubule-associated protein, EB1, links AIM2 inflammasomes with autophagy-dependent secretion"
Journal of Biological Chemistry
Vol. 289 Iss. 42 (2014) p. 29322 - 29333 ISSN: 0021-9258
Available at: http://works.bepress.com/david-ojcius/228/