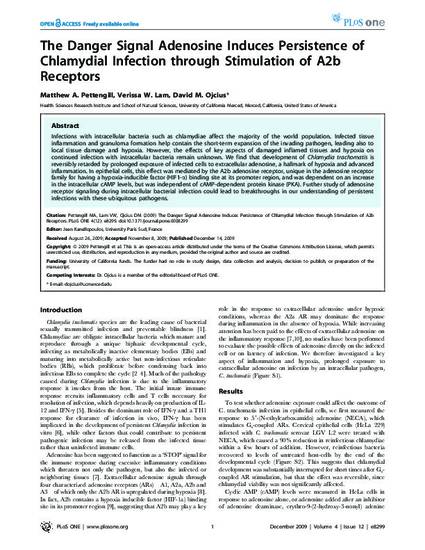 Article
The danger signal adenosine induces persistence of chlamydial infection through stimulation of A2b receptors
PLoS One
ORCiD
David M. Ojcius: 0000-0003-1461-4495
DOI
10.1371/journal.pone.0008299
Publication Date
12-14-2009
Abstract
Infections with intracellular bacteria such as chlamydiae affect the majority of the world population. Infected tissue inflammation and granuloma formation help contain the short-term expansion of the invading pathogen, leading also to local tissue damage and hypoxia. However, the effects of key aspects of damaged inflamed tissues and hypoxia on continued infection with intracellular bacteria remain unknown. We find that development of Chlamydia trachomatis is reversibly retarded by prolonged exposure of infected cells to extracellular adenosine, a hallmark of hypoxia and advanced inflammation. In epithelial cells, this effect was mediated by the A2b adenosine receptor, unique in the adenosine receptor family for having a hypoxia-inducible factor (HIF1-α) binding site at its promoter region, and was dependent on an increase in the intracellular cAMP levels, but was independent of cAMP-dependent protein kinase (PKA). Further study of adenosine receptor signaling during intracellular bacterial infection could lead to breakthroughs in our understanding of persistent infections with these ubiquitous pathogens.
Citation Information
Matthew A. Pettengill, Verissa W. Lam and David M. Ojcius. "The danger signal adenosine induces persistence of chlamydial infection through stimulation of A2b receptors"
PLoS One
Vol. 4 Iss. 12 (2009) p. 1 - 7 ISSN: 1932-6203
Available at: http://works.bepress.com/david-ojcius/222/