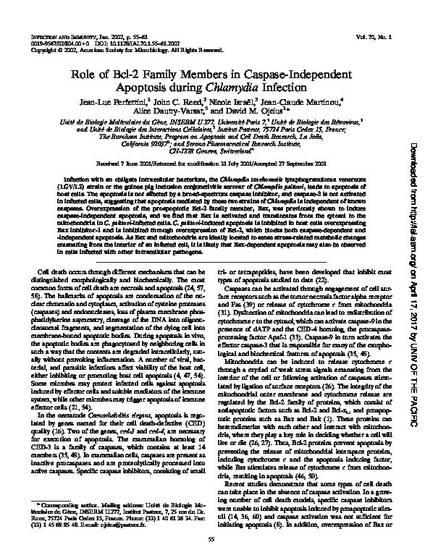 Article
Role of Bcl-2 family members in caspase-independent apoptosis due to Chlamydia infection
Infection and Immunity
ORCiD
David M. Ojcius: 0000-0003-1461-4495
DOI
10.1128/IAI.70.1.55-61.2002
Publication Date
1-1-2002
Abstract
Infection with an obligate intracellular bacterium, the Chlamydia trachomatis lymphogranuloma venereum (LGV/L2) strain or the guinea pig inclusion conjunctivitis serovar of Chlamydia psittaci, leads to apoptosis of host cells. The apoptosis is not affected by a broad-spectrum caspase inhibitor, and caspase-3 is not activated in infected cells, suggesting that apoptosis mediated by these two strains of Chlamydia is independent of known caspases. Overexpression of the proapoptotic Bcl-2 family member, Bax, was previously shown to induce caspase-independent apoptosis, and we find that Bax is activated and translocates from the cytosol to the mitochondria in C. psittaci-infected cells. C. psittaci-induced apoptosis is inhibited in host cells overexpressing Bax inhibitor-1 and is inhibited through overexpression of Bcl-2, which blocks both caspase-dependent and -independent apoptosis. As Bax and mitochondria are ideally located to sense stress-related metabolic changes emanating from the interior of an infected cell, it is likely that Bax-dependent apoptosis may also be observed in cells infected with other intracellular pathogens.
Citation Information
Jean-Luc Perfettini, John C. Reed, Nicole Israel, Jean-Claude Martinou, et al.. "Role of Bcl-2 family members in caspase-independent apoptosis due to Chlamydia infection"
Infection and Immunity
Vol. 70 Iss. 1 (2002) p. 55 - 61 ISSN: 0019-9567
Available at: http://works.bepress.com/david-ojcius/205/