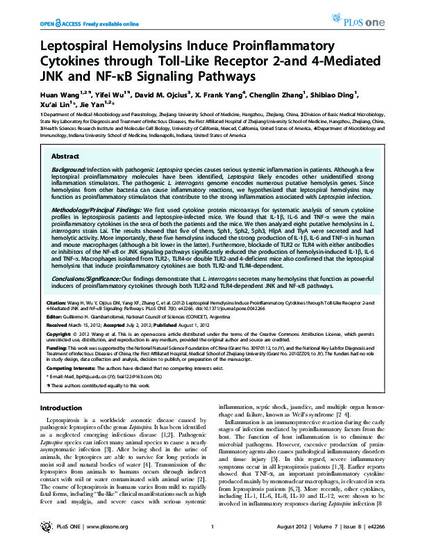 Article
Leptospiral hemolysins induce proinflammatory cytokines through Toll-like receptor 2-and 4-mediated JNK and NF-κB signaling pathways
PLoS One
ORCiD
David M. Ojcius: 0000-0003-1461-4495
DOI
10.1371/journal.pone.0042266
Publication Date
8-1-2012
Abstract
Infection with pathogenic Leptospira species causes serious systemic inflammation in patients. Although a few leptospiral proinflammatory molecules have been identified, Leptospira likely encodes other unidentified strong inflammation stimulators. The pathogenic L. interrogans genome encodes numerous putative hemolysin genes. Since hemolysins from other bacteria can cause inflammatory reactions, we hypothesized that leptospiral hemolysins may function as proinflammatory stimulators that contribute to the strong inflammation associated with Leptospira infection.
Citation Information
Huan Wang, Yifei Hu, David M. Ojcius, X. Frank Yang, et al.. "Leptospiral hemolysins induce proinflammatory cytokines through Toll-like receptor 2-and 4-mediated JNK and NF-κB signaling pathways"
PLoS One
Vol. 7 Iss. 8 (2012) p. 1 - 15 ISSN: 1932-6203
Available at: http://works.bepress.com/david-ojcius/149/