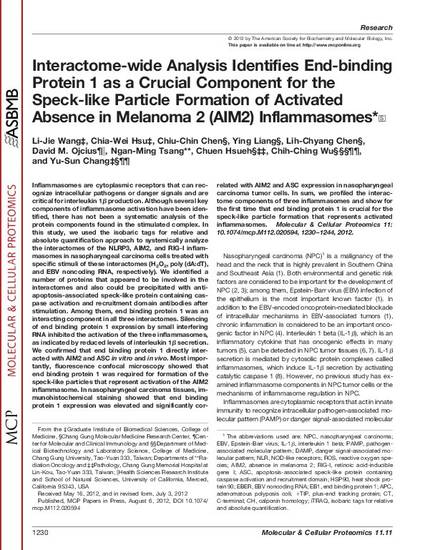 Article
Interactome-wide analysis identifies end-binding protein 1 as a crucial component for the speck-like particle formation of activated absence in melanoma 2 (AIM2) inflammasomes
Molecular and Cellular Proteomics
ORCiD
David M. Ojcius: 0000-0003-1461-4495
DOI
10.1074/mcp.M112.020594
Publication Date
8-6-2012
Abstract
Inflammasomes are cytoplasmic receptors that can recognize intracellular pathogens or danger signals and are critical for interleukin 1β production. Although several key components of inflammasome activation have been identified, there has not been a systematic analysis of the protein components found in the stimulated complex. In this study, we used the isobaric tags for relative and absolute quantification approach to systemically analyze the interactomes of the NLRP3, AIM2, and RIG-I inflammasomes in nasopharyngeal carcinoma cells treated with specific stimuli of these interactomes (H2O2, poly (dA:dT), and EBV noncoding RNA, respectively). We identified a number of proteins that appeared to be involved in the interactomes and also could be precipitated with anti-apoptosis-associated speck-like protein containing caspase activation and recruitment domain antibodies after stimulation. Among them, end binding protein 1 was an interacting component in all three interactomes. Silencing of end binding protein 1 expression by small interfering RNA inhibited the activation of the three inflammasomes, as indicated by reduced levels of interleukin 1β secretion. We confirmed that end binding protein 1 directly interacted with AIM2 and ASC in vitro and in vivo. Most importantly, fluorescence confocal microscopy showed that end binding protein 1 was required for formation of the speck-like particles that represent activation of the AIM2 inflammasome. In nasopharyngeal carcinoma tissues, immunohistochemical staining showed that end binding protein 1 expression was elevated and significantly correlated with AIM2 and ASC expression in nasopharyngeal carcinoma tumor cells. In sum, we profiled the interactome components of three inflammasomes and show for the first time that end binding protein 1 is crucial for the speck-like particle formation that represents activated inflammasomes.
Citation Information
Li-Jie Wang, Chia-Wei Hsu, Chiu-Chin Chen, Ying Liang, et al.. "Interactome-wide analysis identifies end-binding protein 1 as a crucial component for the speck-like particle formation of activated absence in melanoma 2 (AIM2) inflammasomes"
Molecular and Cellular Proteomics
Vol. 11 (2012) p. 1230 - 1244 ISSN: 1535-9476
Available at: http://works.bepress.com/david-ojcius/129/