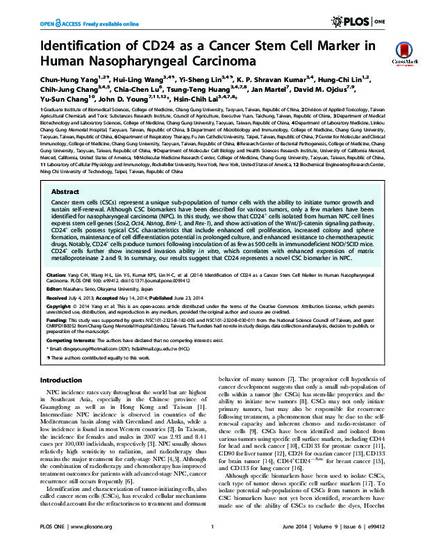 Article
Identification of CD24 as a cancer stem cell marker in human nasopharyngeal carcinoma
PLoS One
ORCiD
David M. Ojcius: 0000-0003-1461-4495
DOI
10.1371/journal.pone.0099412
Publication Date
6-23-2014
Abstract
Cancer stem cells (CSCs) represent a unique sub-population of tumor cells with the ability to initiate tumor growth and sustain self-renewal. Although CSC biomarkers have been described for various tumors, only a few markers have been identified for nasopharyngeal carcinoma (NPC). In this study, we show that CD24+ cells isolated from human NPC cell lines express stem cell genes (Sox2, Oct4, Nanog, Bmi-1, and Rex-1), and show activation of the Wnt/β-catenin signaling pathway. CD24+ cells possess typical CSC characteristics that include enhanced cell proliferation, increased colony and sphere formation, maintenance of cell differentiation potential in prolonged culture, and enhanced resistance to chemotherapeutic drugs. Notably, CD24+ cells produce tumors following inoculation of as few as 500 cells in immunodeficient NOD/SCID mice. CD24+ cells further show increased invasion ability in vitro, which correlates with enhanced expression of matrix metalloproteinase 2 and 9. In summary, our results suggest that CD24 represents a novel CSC biomarker in NPC.
Citation Information
Chun-Hung Yang, Hui-Ling Wang, Yi-Sheng Lin, K. P. Shravan Kumar, et al.. "Identification of CD24 as a cancer stem cell marker in human nasopharyngeal carcinoma"
PLoS One
Vol. 9 Iss. 6 (2014) p. 1 - 14 ISSN: 1932-6203
Available at: http://works.bepress.com/david-ojcius/113/