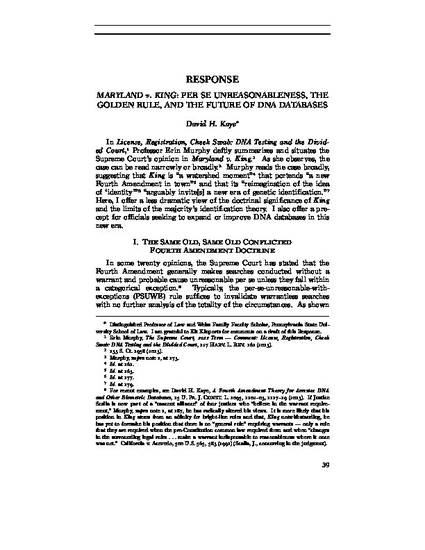 Article
Maryland v. King: Per Se Unreasonableness, the Golden Rule, and the Future of DNA Databases
Harvard Law Review Forum
Publication Date
1-1-2013
Abstract
In Maryland v. King, the Supreme Court applied a balancing test to uphold a Maryland statute mandating preconviction collection and analysis of DNA from individuals charged with certain crimes. The DNA profiles are limited to an inherited set of DNA sequences that are not known to be functional and that are tokens of individual identity. This invited online essay examines two aspects of an article on the case by Professor Erin Murphy. I question the claim that the case is pivotal in a conceivable abandonment of the per se rule that warrantless, suspicionless searches are unconstitutional unless they fall within a set of established exceptions. In addition, I dispute the view that the Court's undifferentiated use of the word "identification" in King (and the notion of identification in statutes like Maryland's) can be read as approving of genetic testing an arrestee's genotypes for purposes other than matching the profile to profiles from crime-scenes or known individuals. Finally, I offer a precept that legislators and administrators should follow in designing DNA databases for law enforcement use.
Citation Information
David H. Kaye. "Maryland v. King: Per Se Unreasonableness, the Golden Rule, and the Future of DNA Databases"
Harvard Law Review Forum
Vol. 127 (2013) p. 39
Available at: http://works.bepress.com/david-kaye/27/