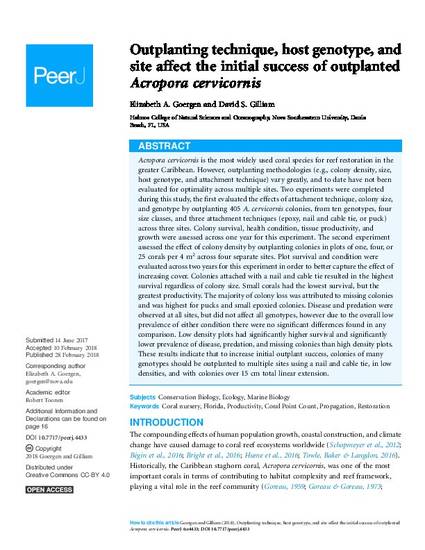 Article
Outplanting Technique, Host Genotype, and Site Affect the Initial Success of Outplanted Acropora cervicornis
PeerJ
Publication Date
2-28-2018
Keywords
Coral nursery,
Florida,
Productivity,
Coral point count,
Propagation,
Restoration
Abstract
Acropora cervicornis is the most widely used coral species for reef restoration in the greater Caribbean. However, outplanting methodologies (e.g., colony density, size, host genotype, and attachment technique) vary greatly, and to date have not been evaluated for optimality across multiple sites. Two experiments were completed during this study, the first evaluated the effects of attachment technique, colony size, and genotype by outplanting 405 A. cervicornis colonies, from ten genotypes, four size classes, and three attachment techniques (epoxy, nail and cable tie, or puck) across three sites. Colony survival, health condition, tissue productivity, and growth were assessed across one year for this experiment. The second experiment assessed the effect of colony density by outplanting colonies in plots of one, four, or 25 corals per 4 m2 across four separate sites. Plot survival and condition were evaluated across two years for this experiment in order to better capture the effect of increasing cover. Colonies attached with a nail and cable tie resulted in the highest survival regardless of colony size. Small corals had the lowest survival, but the greatest productivity. The majority of colony loss was attributed to missing colonies and was highest for pucks and small epoxied colonies. Disease and predation were observed at all sites, but did not affect all genotypes, however due to the overall low prevalence of either condition there were no significant differences found in any comparison. Low density plots had significantly higher survival and significantly lower prevalence of disease, predation, and missing colonies than high density plots. These results indicate that to increase initial outplant success, colonies of many genotypes should be outplanted to multiple sites using a nail and cable tie, in low densities, and with colonies over 15 cm total linear extension.
ORCID ID
0000-0001-5968-3107
Citation Information
Elizabeth Goergen and David S Gilliam. "Outplanting Technique, Host Genotype, and Site Affect the Initial Success of Outplanted Acropora cervicornis"
PeerJ
Vol. 6 (2018) p. e4433 ISSN: 2167-8359
Available at: http://works.bepress.com/david-gilliam/115/