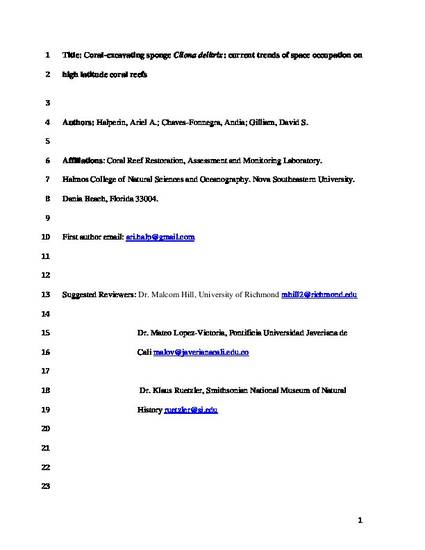 Article
Coral-Excavating Sponge Cliona delitrix: Current Trends of Space Occupation on High Latitude Coral Reefs
Hydrobiologia
Publication Date
4-1-2017
Keywords
Growth,
Substratum preferences,
Competition,
Invertebrate,
Florida,
Coral,
Sponge
Abstract
The recent increase in abundance of coral-excavating sponges is a threat to the health of coral reefs. However, the distribution and growth of these sponges are poorly documented on high latitude reefs where corals live in marginal environmental conditions. In this study, we characterize the current trends of space occupation of Cliona delitrix on high latitude reefs (26°N) in southeast Florida. C. delitrix densities were significantly higher on the deepest habitat of this reef tract (the outer reef) in response to a higher availability of coral substratum. Sponge growth rates increased with depth, and in relation to presence of tunicates and absence of macroalgae living in the sponge–coral interaction band. Conversely, coral tissue loss was similar between habitats, regardless of the fouling organisms present in the band between sponge and coral. On high latitude reefs, C. delitrix preferred massive scleractinian coral species as substratum, similar to tropical reefs, but its inclination for specific coral species varied. The outer reef sites (deepest habitat) are most vulnerable to C. delitrix colonization. Reef habitats with higher coral densities and more available dead coral may continue to suffer the greatest levels of sponge bioerosion.
ORCID ID
0000-0002-6781-0089
DOI
10.1007/s10750-016-3042-x
Citation Information
Ari Halperin, Andia Chaves-Fonnegra and David S. Gilliam. "Coral-Excavating Sponge Cliona delitrix: Current Trends of Space Occupation on High Latitude Coral Reefs"
Hydrobiologia
Vol. 790 Iss. 1 (2017) p. 299 - 310 ISSN: 0018-8158
Available at: http://works.bepress.com/david-gilliam/104/