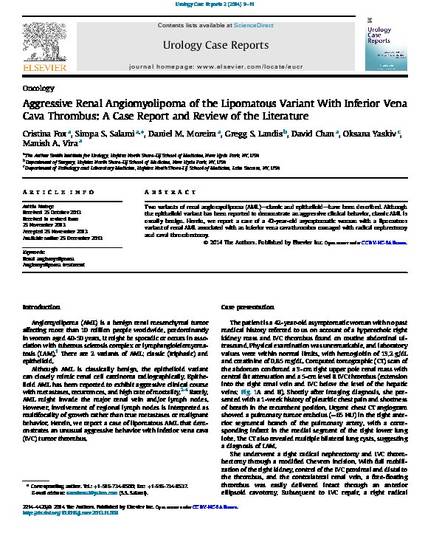 Article
Aggressive Renal Angiomyolipoma of the Lipomatous Variant With Inferior Vena Cava Thrombus: A Case Report and Review of the Literature
Urol Case Rep
Abstract
Two variants of renal angiomyolipoma (AML)—classic and epithelioid—have been described. Although the epithelioid variant has been reported to demonstrate an aggressive clinical behavior, classic AML is usually benign. Herein, we report a case of a 42-year-old asymptomatic woman with a lipomatous variant of renal AML associated with an inferior vena cava thrombus managed with radical nephrectomy and caval thrombectomy.
Facility
School of Medicine
Primary Department
Pathology and Laboratory Medicine
Additional Departments
Surgery; Urology
DOI
10.1016/j.eucr.2013.11.009
Citation Information
C. Fox, S. S. Salami, D. M. Moreira, G. S. Landis, et al.. "Aggressive Renal Angiomyolipoma of the Lipomatous Variant With Inferior Vena Cava Thrombus: A Case Report and Review of the Literature"
Urol Case Rep
Vol. 2 Iss. 1 (2014)
Available at: http://works.bepress.com/david-chan/1/