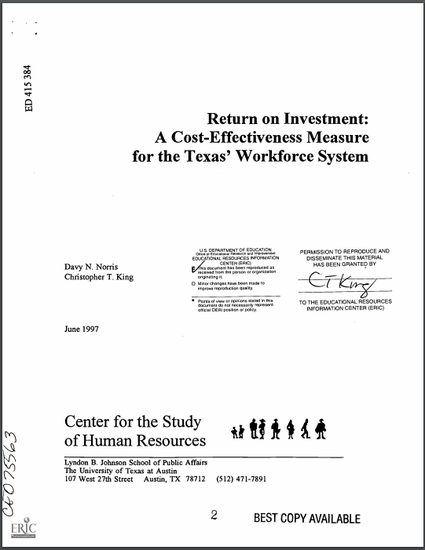 Article
Return on Investment: A Cost-Effectiveness Measure for the Texas' Workforce System
Ray Marshall Center for the Study of Human Resources (1997)
Abstract
Texas is developing a return-on-investment (ROI) measure to assess the cost-effectiveness of work force programs. Emphasis is on issues related to conducting cross-program ROI analysis at the level of the Local Workforce Development Board (LWDB) in career or one-stop centers. To make the most appropriate and effective use of ROI, the following must be determined: how the measure is to be calculated; which benefits and costs can and will be accounted for; how they are to be measured; from which perspective the measure will be calculated; and what time period will be covered. A study of the use of ROI with Job Training Partnership Act (JTPA) adult and youth training programs identified five benefits: simplicity of interpretation; low cost of measurement; usefulness as a local marketing tool; ability to improve communications with private industry councils; and ability to best allocate resources. Five limitations were also found: lack of control group for determining net impact of training services; lack of a consistent methodology for comparing returns across local providers; non-JTPA services for which ROI models assume credit; nonmonetary benefits that were not accounted for; and limited availability of data. Key issues in conducting cross-program ROI analysis of Texas' work force development programs at the LWDB level are as follows: purpose, perspective, net or gross measurement, within- or cross program, benefit measurement, cost measurement, and timing of measurement. Steps have been recommended for implementing an ROI measure.
Keywords
return on investment,
Texas,
adult education,
comparative analysis,
cost effectiveness,
employment programs,
employment services,
evaluation criteria
Publication Date
June, 1997
Citation Information
Dave N. Norris. "Return on Investment: A Cost-Effectiveness Measure for the Texas' Workforce System"
Ray Marshall Center for the Study of Human Resources
(1997)
Available at: http://works.bepress.com/dave-norris/6/