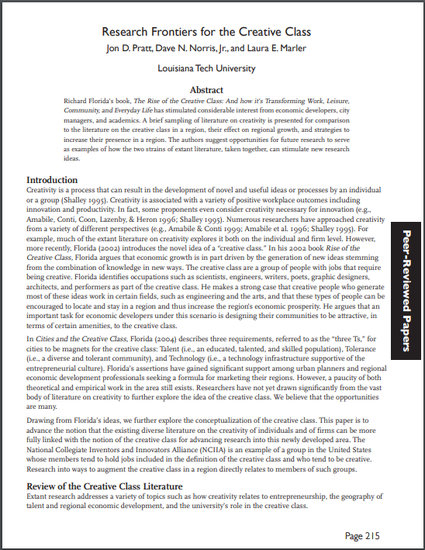 Article
Research Frontiers for the Creative Class
NCIIA Annual Conference Proceedings (2008)
Abstract
Richard Florida's book, The Rise of the Creative Class: And how it's Transforming Work, Leisure,
Community, and Everyday Life has stimulated considerable interest from economic developers, city
managers, and academics. A brief sampling of literature on creativity is presented for comparison
to the literature on the creative class in a region, their effect on regional growth, and strategies to
increase their presence in a region. The authors suggest opportunities for future research to serve
as examples of how the two strains of extant literature, taken together, can stimulate new research
ideas.
Publication Date
March, 2008
Citation Information
Dave N. Norris, Jon D. Pratt and Laura E. Marler. "Research Frontiers for the Creative Class"
NCIIA Annual Conference Proceedings
(2008)
Available at: http://works.bepress.com/dave-norris/4/