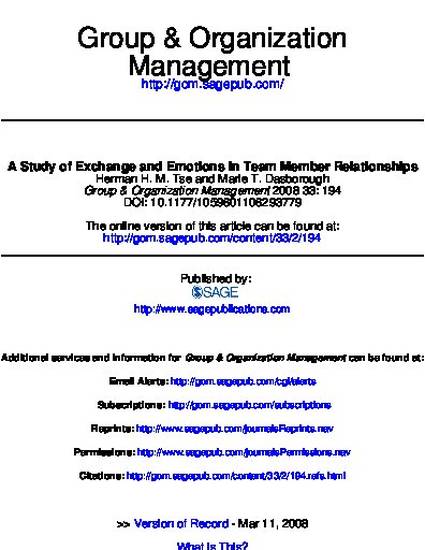 Article
A Study of Exchange and Emotions in Team Member Relationships
Group & Organization Management (2008)
Abstract
In this article we aim to generate theory about how individuals perceive their relationships with team members, and their emotional experiences within the team member exchange (TMX) process. Findings from qualitative and quantitative analyses are presented, with data collected from 25 full-time employees working within five teams in two organizations. The qualitative results reveal a variety of exchanges that occur within the team member relationships, including relationship-oriented exchanges and task-oriented exchanges. Team members highlighted the importance of friendship within the team context, and that they experienced positive and negative emotions in response to their TMX relationships. The quantitative results also indicated that positive emotions, rather than negative emotions, were associated with high-quality TMX relationships.
Keywords
team member exchange (TMX),
emotions,
friendship,
teams
Citation Information
Marie T Dasborough. "A Study of Exchange and Emotions in Team Member Relationships"
Group & Organization Management
Vol. 33 (2008)
Available at: http://works.bepress.com/dasborough/7/