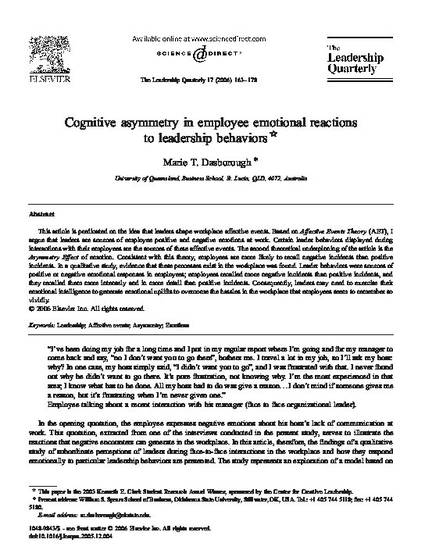 Article
Cognitive asymmetry in employee emotional reactions to leadership behaviors
The Leadership Quarterly (2006)
Abstract
This article is predicated on the idea that leaders shape workplace affective events. Based on Affective Events Theory (AET), I argue that leaders are sources of employee positive and negative emotions at work. Certain leader behaviors displayed during interactions with their employees are the sources of these affective events. The second theoretical underpinning of the article is the Asymmetry Effect of emotion. Consistent with this theory, employees are more likely to recall negative incidents than positive incidents. In a qualitative study, evidence that these processes exist in the workplace was found. Leader behaviors were sources of positive or negative emotional responses in employees; employees recalled more negative incidents than positive incidents, and they recalled them more intensely and in more detail than positive incidents. Consequently, leaders may need to exercise their emotional intelligence to generate emotional uplifts to overcome the hassles in the workplace that employees seem to remember so vividly. D 2006 Elsevier Inc. All rights reserved.
Keywords
Leadership,
Affective events,
Asymmetry,
Emotions
Citation Information
Marie T Dasborough. "Cognitive asymmetry in employee emotional reactions to leadership behaviors"
The Leadership Quarterly
Vol. 17 (2006)
Available at: http://works.bepress.com/dasborough/10/