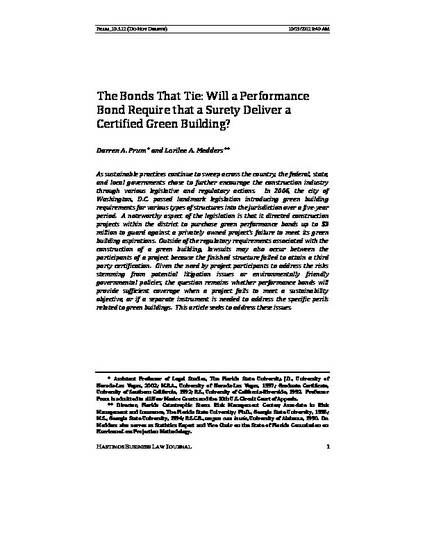 Article
The Bonds that Tie: Will A Performance Bond Require That A Surety Deliver A Certified Green Building?
Hastings Business Law Journal (2012)
Abstract
In 2006, the city of Washington, D. C. passed landmark legislation that introduced green building requirements for various types of structures into the jurisdiction over a five-year period. A noteworthy aspect of the legislation directed construction projects within the district to purchase green performance bonds up to $3 million to guard against a privately owned project's failure to meet its green building aspirations. In essence, this law placed the burden of guaranteeing compliance with the government's policy upon the contractors and sureties of a green building project.
Following the passage of this act, confusion amongst the construction industry and sureties occurred because a green performance bond did not exist and no one knew how to obtain one. Responding to this legislation, the Surety and Fidelity Association of America (SFAA) and the National Association of Surety Bond Producers (NASBP) sent a joint letter to the government of the District of Columbia outlining their concerns and explaining that they anticipated great reluctance on the part of sureties to issue such an instrument despite the creation of market demand. No matter the motivating source, this new requirement highlighted the need for some type of approach that provided a guarantee against injuries arising from a contractor that did not deliver a green building as promised.
Likewise, a lawsuit may occur between a project's participants that emanates out of the failure to attain a coveted third party certification standard due to the complexities associated with building green. This may originate out of financial incentives provided by many jurisdictions to encourage the construction of green buildings or due to the many other claim possibilities available to an injured party. For example, a lawsuit occurred when one project in Maryland failed to achieve its green building objectives and did not qualify for the state's financial incentives. In such an instance, some type of contractual guarantee from a surety could have provided accountability and a resolution for the green building issue without the need for legal action.
Given these needs for project participants and those associated with environmentally friendly governmental policies, the question remains as to whether a performance bond will provide sufficient coverage when a project fails to meet a sustainability objective, or if a separate instrument is needed to address the specific risks related to green buildings. This article seeks to address these issues.
Keywords
Green Building,
Surety,
Performance Bond,
AIA,
ConsensusDOCS,
EJCDC,
LEED,
Green Globes
Publication Date
Fall 2012
Citation Information
Darren Prum and Lorilee Medders. "The Bonds that Tie: Will A Performance Bond Require That A Surety Deliver A Certified Green Building?"
Hastings Business Law Journal
Vol. 9 Iss. 1 (2012)
Available at: http://works.bepress.com/darren_prum/14/