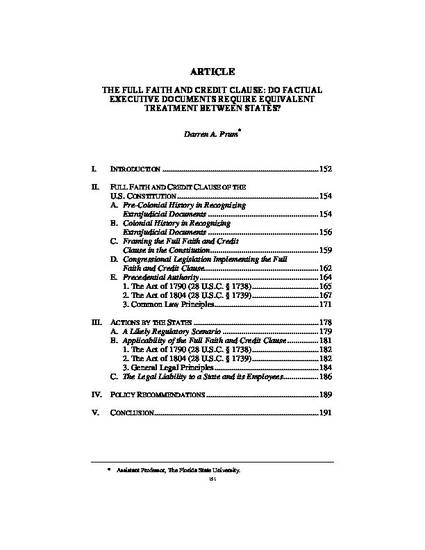 Article
The Full Faith and Credit Clause: Do Factual Executive Documents Require Equivalent Treatment Between States?
U. of Florida Journal of Law & Public Policy (2012)
Abstract
Largely a development of the last half-century of government expansion, many of the health, safety, and welfare protections required by the federal government now fall upon the states. With the states picking up the load, many of the jurisdictions elect to administrate these duties through agencies. These agencies promulgate numerous regulations and enforce them as well. In making these laws and regulations, the government may require the public to submit documents that convey factual information in order to achieve the overall policy goal.
During these interactions with the public, the statute or regulations provide the guidance as to what qualifies as an acceptable submission. For those individuals already living in a particular jurisdiction, obtaining the correct document poses no problem. However, for those individuals moving between states, the submitted official documents may emanate from another state. Depending on the language used in the statutes or regulations, the official documents from another jurisdiction may get rejected by a government employee solely on the basis of their origination point.
While the Constitution requires the recognition of equivalent records from another jurisdiction under the Full Faith and Credit Clause and Congress sets forth the scope and mechanism, many state agencies are reticent to deviate from policy and procedure absent an instruction from a higher authority like the courts. In many of these instances, the rewards are minimal for a successful legal challenge with a steep cost along the way; so an aggrieved party usually chooses to comply rather than try to enforce their constitutional rights against the state government.
When considering the acknowledgment due a factually based official document from the executive branch of government, it appears like a straightforward Full Faith and Credit Clause legal analysis; but the courts only explored a minimal amount of this part of the Constitution during our country's history. In reviewing the scholarly literature in this subject matter, numerous scholars examined the history of the clause and continue to focus on the judicial proceedings aspects while mostly ignoring the growing issue related to the treatment of official documents containing factual information between the states. This aspect will continue to grow in importance as the executive branch of state governments continues to expand its reach upon the citizenry and require unnecessary and burdensome compliance that could otherwise be avoided by honoring the official and factual documents from another jurisdiction that contain virtually the same information.
Keywords
Full Faith and Credit,
Constitutional Law,
interstate documents
Publication Date
August, 2012
Citation Information
Darren Prum. "The Full Faith and Credit Clause: Do Factual Executive Documents Require Equivalent Treatment Between States?"
U. of Florida Journal of Law & Public Policy
Vol. 23 Iss. 2 (2012)
Available at: http://works.bepress.com/darren_prum/12/