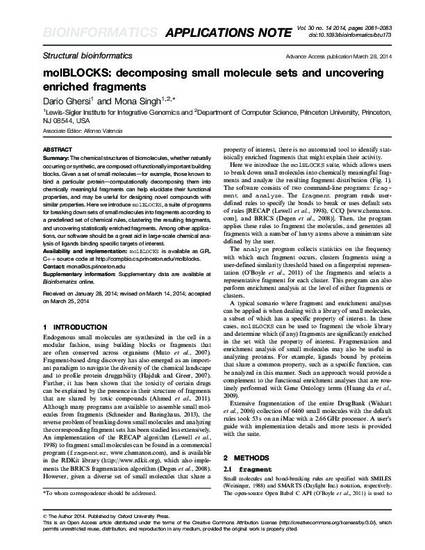 Article
molBLOCKS: Decomposing small molecule sets and uncovering enriched fragments
Bioinformatics
Publication Date
3-28-2014
Abstract
The chemical structures of biomolecules, whether naturally occurring or synthetic, are composed of functionally important building blocks. Given a set of small molecules—for example, those known to bind a particular protein—computationally decomposing them into chemically meaningful fragments can help elucidate their functional properties, and may be useful for designing novel compounds with similar properties. Here we introduce molBLOCKS, a suite of programs for breaking down sets of small molecules into fragments according to a predefined set of chemical rules, clustering the resulting fragments, and uncovering statistically enriched fragments. Among other applications, our software should be a great aid in large-scale chemical analysis of ligands binding specific targets of interest.
Citation Information
Dario Ghersi and Mona Singh. "molBLOCKS: Decomposing small molecule sets and uncovering enriched fragments"
Bioinformatics
Vol. 30 Iss. 14 (2014)
Available at: http://works.bepress.com/dario-ghersi/9/