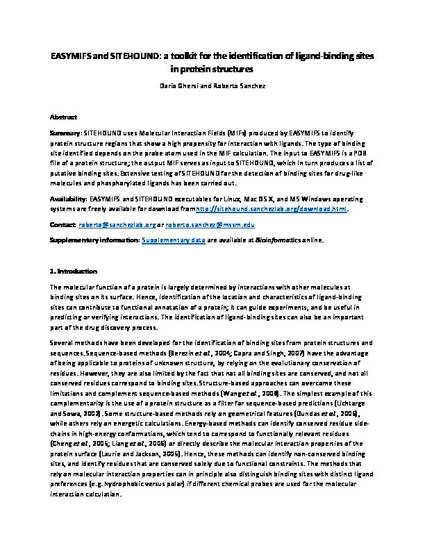 Article
EASYMIFS and SITEHOUND: a toolkit for the identification of ligand-binding sites in protein structures
Bioinformatics
Publication Date
9-29-2009
Abstract
Summary: SITEHOUND uses Molecular Interaction Fields (MIFs) produced by EASYMIFS to identify protein structure regions that show a high propensity for interaction with ligands. The type of binding site identified depends on the probe atom used in the MIF calculation. The input to EASYMIFS is a PDB file of a protein structure; the output MIF serves as input to SITEHOUND, which in turn produces a list of putative binding sites. Extensive testing of SITEHOUND for the detection of binding sites for drug-like molecules and phosphorylated ligands has been carried out. Availability: EASYMIFS and SITEHOUND executables for Linux, Mac OS X, and MS Windows operating systems are freely available for download fromhttp://sitehound.sanchezlab.org/download.html.
Citation Information
Dario Ghersi and Roberto Sanchez. "EASYMIFS and SITEHOUND: a toolkit for the identification of ligand-binding sites in protein structures"
Bioinformatics
Vol. 25 Iss. 23 (2009) p. 3185 - 3186
Available at: http://works.bepress.com/dario-ghersi/10/