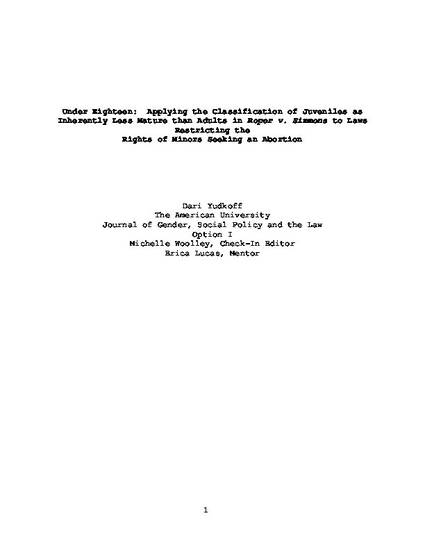 Unpublished Paper
Under Eighteen: Applying the Classification of Juveniles as Inherently Less Mature than Adults in Roper v. Simmons to Laws Restricting the
ExpressO (2008)
Abstract
This casenote analyzes the potential effects of the Supreme Court's holding in the juvenile death penalty case Roper v. Simmons on laws governing minors seeking abortions. In Roper, the Court instituted a bright line rule that minors under the age of eighteen are not eligible for the death penalty, because they inherently immature. The Court explains that minors are not capable of fully understanding the consequences of their actions, and therefore the death penalty is cruel and unusual punishment. While this law protects the rights of juveniles accused of murder, the same reasoning would severely limit the rights of minors seeking abortions. Parental notification/consent and judiciary bypass laws already assume that minors require the guidance of an adult when seeking an abortion. This casenote argues that in the context of young women seeking abortions, the Court should not institute a similar bright line rule based on the premise that all minors are inherently immature.
Keywords
death penalty; minor; abortion
Publication Date
March 24, 2008
Citation Information
Dari Yudkoff. "Under Eighteen: Applying the Classification of Juveniles as Inherently Less Mature than Adults in Roper v. Simmons to Laws Restricting the"
ExpressO
(2008)
Available at: http://works.bepress.com/dari_yudkoff/1/