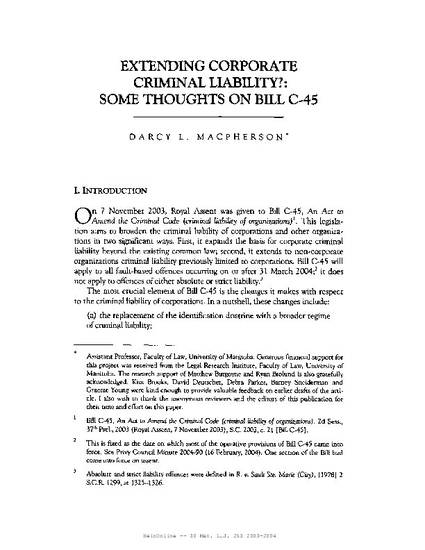 Article
Extending Corporate Criminal Liability: Some thoughts on Bill C-45
Manitoba Law Journal (2004)
Abstract
On 7 November 2003, Royal Assent was given to Bill C-45, An Act to Amend the Criminal Code (criminal liability of organizations). This legislation aims to broaden the criminal liability of corporations and other organizations in two significant ways. First, it expands the basis for corporate criminal liability beyond the existing common law; second, it extends to non-corporate organizations criminal liability previously limited to corporations. Bill C-45 will apply to all fault-based offences occurring on or after 31 March 2004, it does not apply to offences of either absolute or strict liability. This paper will discuss the most crucial changes implemented by Bill C-45 and the likely impact of these changes. It concludes that while the government intends to broaden criminal liability through Bill C-45, and in some ways, is successful in so doing, certain parts may require amendment to achieve this goal within the frameworth of the Criminal Code.
Keywords
Bill C-45,
criminal liability,
corporate liability
Citation Information
Darcy L MacPherson. "Extending Corporate Criminal Liability: Some thoughts on Bill C-45"
Manitoba Law Journal
Vol. 30 Iss. 3 (2004)
Available at: http://works.bepress.com/darcy_macpherson/1/