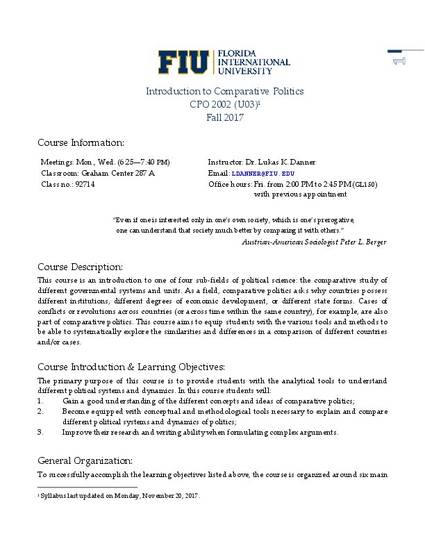 Course Syllabus
Syllabus CPO 2002 (U03): Introduction to Comparative Politics (Fall 2017)
CPO 2002 (U03): Introduction to Comparative Politics (2017)
Description
This course is an introduction to one of four sub-fields of political science: the comparative study of different governmental systems and units. As a field, comparative politics asks why countries possess different institutions, different degrees of economic development, or different state forms. Cases of conflicts or revolutions across countries (or across time within the same country), for example, are also part of comparative politics. This course aims to equip students with the various tools and methods to be able to systematically explore the similarities and differences in a comparison of different countries and/or cases.
Publication Date
Fall 2017
Citation Information
Lukas K. Danner. "Syllabus CPO 2002 (U03): Introduction to Comparative Politics (Fall 2017)"
CPO 2002 (U03): Introduction to Comparative Politics
(2017)
Available at: http://works.bepress.com/dannerlu/32/