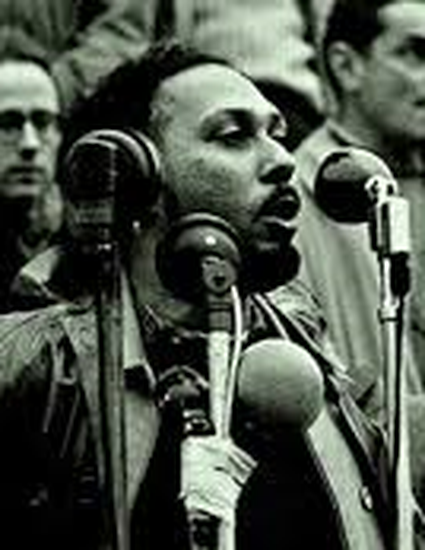 Video
AKOMFRAH | BOWEN | MCNEIL
(2018)
Description
AKOMFRAH | BOWEN | MCNEIL
Screening / Lecture
© Smoking Dogs Films; Courtesy Lisson Gallery
Sunday, February 11, 4:30 – 7:30 pm
Location: J.A. de Sève Cinema, 1400 boul. De Maisonneuve O.
Video screening
John Akomfrah, The Stuart Hall Project, 2013
Deanna Bowen, sum of the parts: what can be named, 2010
With a presentation by Dr. Daniel McNeil (Professor of History, Migration and Diaspora Studies, Carleton University)
The Gallery presents a screening of Toronto-based Deanna Bowen's sum of the parts: what can be named alongside British artist John Akomfrah's portrait of the late sociologist and theorist Stuart Hall, The Stuart Hall Project. This program examines how the biographic, autobiographic, and documentary forms as well as research on the long term must navigate the entanglements of memory, lacuna, event and experience.
Bridging these two works, Daniel McNeil discusses how Bowen and Akomfrah invite us to play more carefully with history, memory and cultural politics. In doing so, he frames their politically infused acts of pleasure as critical resources in a living archive of diaspora and dissidence – provocative, suggestive and explorative works that not only provide tools to address how racism and resistance articulate with each other in translocal contexts, but also offer content and a cutting edge to ongoing fights against the violence of nation-states and corporations that have been selling 'multicultural snake oil' to the world for years.
A video of Daniel McNeil's presentation is available in the
Audio | Video
section.
Keywords
Stuart Hall,
Diaspora,
Cultural Studies,
Deanna Bowen,
John Akomfrah
Publication Date
February 11, 2018
Citation Information
Daniel McNeil. "AKOMFRAH | BOWEN | MCNEIL" (2018)
Available at: http://works.bepress.com/danielmcneil/18/